Brazil with the lowest performance in the first half of 2012 among BRIC countries
Tuesday, August 21st 2012 - 22:01 UTC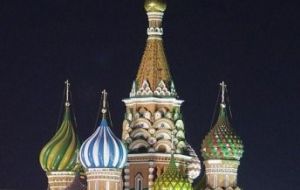 Russian GDP growth in percentage terms surpassed Brazil in the first half of the year and even if the market still prefers Brazil's diverse economy over Russia, the South American country is now dead last in terms of economic growth in the big four emerging markets, BRIC.
Russian statistical agency, Rosstat, said the economy grew 4.4% in the first half. Meanwhile Brazil's economy grew by around 1% in the first half of the year. India is also sluggish, growing under 6% and China's GDP is consistently being revised downward from 8% for the year to around 7.5% to 7.9% by most economists' estimates.
In April, the Russian Economic Development Ministry cut its forecast for Russia's economic growth in 2012 from 3.7% to 3.4%, suggesting expectations for a worsening second half.
Economic Development Minister Andrei Belousov has previously said Russia's economic growth in January-June 2012 was facilitated by a fast rise in investment and rapid output expansion in manufacturing.
But July's latest investment data shows investors have soured early.
This week's release of July economic indicators showed investment slowed to 3.8% year over year from 4.7% in June, and was below the 5.5% year over year consensus forecast. Retail sales also disappointed at 5.1% versus consensus of 6.2%. It was 6.9% in June.
On the positive side, unemployment remained at a record low 5.4%. Earlier reported industrial production also showed signs of an improvement to 3.4% in July from 1.9% in June.
As measured by the equity markets, Russia is the second best performing BRIC, but is still underperforming the MSCI Emerging Markets Index.