OAS to dispatch mission to accompany and observe Paraguay's political process
Thursday, August 23rd 2012 - 01:59 UTC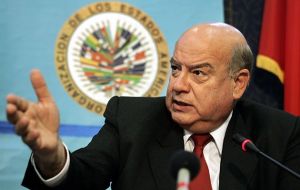 The Organization of American States (OAS) agreed on Wednesday to dispatch of a mission to Paraguay to accompany and observe the electoral process in the country that will conclude with the general elections of April 21, 2013.
At a special meeting of the OAS Permanent Council convened to discuss the situation Secretary General Jose Miguel Insulza recalled that this was his proposal to the Council on July 10, after his visit to Paraguay, and reported that this week he received from the Paraguayan government a resolution of the Superior Court of Electoral Justice of Paraguay requesting the dispatch of a mission of accompaniment and observation.
"This is a resolution that is signed by all members of the electoral authority of Paraguay and to which we will respond favourably, as has been discussed many times here," said the head of the OAS, indicating that this mission could be headed by a very senior politician, possibly a former president of the region.
Insulza said that next week Chief of Staff, Ambassador Hugo de Zela, will travel to Paraguay, along with the OAS Secretary for Political Affairs, Kevin Casas-Zamora, to discuss with the government of Paraguay the details of the installation of electoral observation mission and to make contact with key political and social actors in the country.
Before Asuncion, both diplomats will travel to Lima, Peru, for talks with Peruvian Foreign Minister Rafael Roncagliolo, and with Salomon Lerner, who heads the High Level Group of Unasur on the case of Paraguay.
In his address to the Council Insulza stressed that "there remains a rupture" between the current Paraguayan government and the forces supporting ousted President Fernando Lugo.
However, "this has not been demonstrated in any way, in any violence in any form, or confrontations of any kind," adding that both President Lugo and his followers, "have not been subject to political persecution or acts that violate their personal safety."
Regarding the electoral stage that is beginning, that will culminate in the general elections of April 2013, Insulza said that "political forces are operating quite normally" and that there is "a broad debate, among all the parties" in the Paraguayan media, "with respect to the next election, the candidacies and who is going to stand".
On the legal dispute caused by the conditions in which the "impeachment" that ousted President Lugo was carried out, Insulza said his lawyers are considering a new petition to the Supreme Court and in the event that the court maintains its position, the defence would prepare "the documentation to take the case to international bodies such as the OAS and/or the Inter- American Commission on Human Rights".
According to the OAS release during the session of the Permanent Council representatives from Paraguay, Mexico, Peru, the United States, Dominica, Belize, Costa Rica, Honduras, Trinidad and Tobago, Canada, Guatemala, El Salvador, Brazil, Guyana, Argentina, Venezuela, Panama, Grenada, the Dominican Republic, Barbados, Colombia, Bolivia, Jamaica, The Bahamas, Uruguay, Ecuador, Nicaragua, and Chile actively participated in the discussion.