An Argentine football club has its colours in the moon taken by Armstrong
Tuesday, August 28th 2012 - 05:35 UTC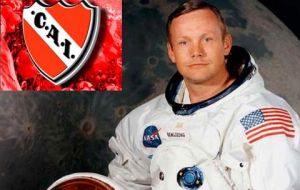 Astronaut Neil Armstrong, who died on Saturday at the age of 82, planted in the moon a pennant from the Argentine football team Independiente, something he personally revealed during a visit to Buenos Aires, recalls the club from one of the working neighbourhoods of the Argentine capital.
The man to first set foot on the moon visited Buenos Aires with his team mates Edwin Aldrin and Michael Collins during a world tour with which they celebrated one of last century's greatest humanity's achievements.
And once in Buenos Aires Armstrong confirmed that he effectively had taken an Independiente pennant to the moon, an event many Argentines did not believe when it was first revealed by the club's authorities.
Hector Rodriguez, at the time Independiente's head of Culture and Public Relations proposed before the takeoff of Apollo XI to make honorary life members the three astronauts: Armstrong, Aldrin and Collins. "If they are to be the greatest heroes of the century, they must be members of Independiente".
His proposal was accepted by the board of the club and the three were registered as members 80.399, 80.400 and 80.401. The memberships with official photos supplied by the US embassy in Buenos Aires were sent to the US together with complete colour uniforms for the children of the astronauts plus the club's pennants.
In May 1969 Armstrong in a letter thanked the club and said he would like to visit Buenos Aires soon and that "he hoped circumstances would allow him to visit the club", which finally happened.
The astronauts visited the Argentine capital in November that year and Rodriguez was invited to a reception in the US embassy which at the time was headed by John Davis Lodge. It was on that occasion that Armstrong said that the pennant they took to the moon and planted in lunar soil had "brought them luck".
Although Independiente currently is not going through a good spell, it is the club which has won most times (seven) the South American Liberators Cup and obviously the only one with the colours of the club in the moon.