Foreign Office says Ecuador and UK have resume dialogue on the Assange case
Wednesday, August 29th 2012 - 21:35 UTC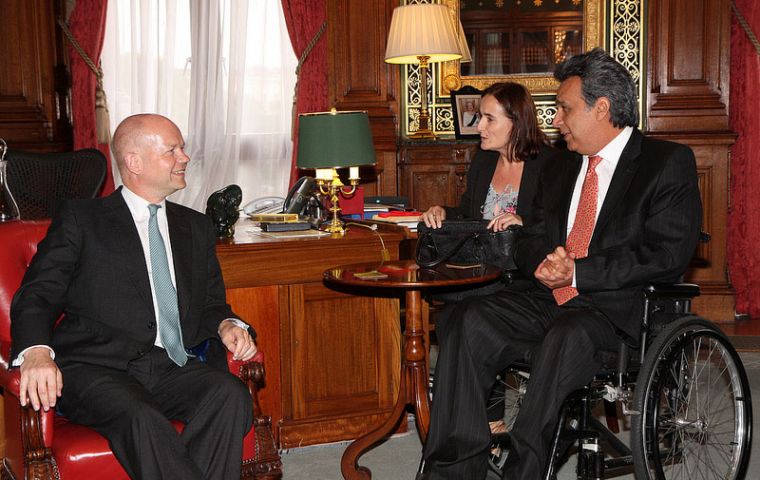 Ecuador and the UK have confirmed the resumption of talks on the Assange case following the meeting of Ecuadorean Vice president Lenin Boltaire Moreno and Foreign Secretary William Hague at the Foreign Office on Wednesday.
Mr. Moreno one of the few paraplegic political leaders of the world was in London precisely for the launching of the Paralympic Games that took off on in the English capital on Wednesday.
According to an official release from the Foreign Office, the two leaders discussed Vice-President Moreno's work on the "Ecuador without Barriers" program which provides a package of support for people with a disability and carers in Ecuador, and the importance of the Paralympic Games in raising awareness of the rights of people with disabilities.
"Foreign Secretary Hague thanked Vice-President Moreno for travelling to London for the Paralympic Games and asked the Vice-President to pass on his congratulations to the two Ecuadorian Paralympians who will be competing in swimming and weightlifting", added the release.
Further on the release says that "they also discussed the situation regarding Mr Julian Assange's presence in the Embassy of Ecuador in London. They confirmed the UK and Ecuador's commitment to dialogue to find a diplomatic solution to the matter".
The Wikileaks founder is holed in at the Ecuadorean embassy in London after having been granted political asylum by the government of President Rafael Correa.
Assange and the Ecuadorean government fear that if he is finally extradited to Sweden to face alleged sex related charges, and for which the UK is demanding his arrest to comply with the extradition ruling, he might be extradited to the US where he could face life imprisonment or death penalty for revealing thousands of secret diplomatic messages in Wikileaks.
Last week the Organization of American States gave Ecuador their full support in the dispute with the UK which at the beginning of the incident sent a veiled message about the possibility of entering the embassy to arrest Assange.
Ecuador and UK since then had stated they wanted to resume dialogue.