Spain to the mercy of markets and with little signs of recovery
Wednesday, August 29th 2012 - 02:22 UTC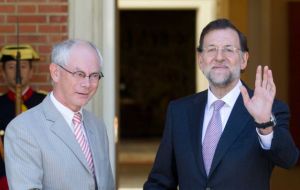 Spain's recession worsened in the second quarter as the government's austerity push to reduce the Euro area's third-biggest budget deficit and a slump in consumer spending offset growth in exports.
GDP fell 0.4% from the previous quarter, when it declined 0.3%, the Madrid-based National Statistics Institute said on Tuesday. On an annual basis it dropped by 1.3%, worse than initial estimates of 1%.
Separately, Spain's borrowing costs fell to the lowest in three months at an auction on Tuesday after the nation's bonds rallied this month on optimism the European Central Bank will agree on a plan to help peripheral nations.
Spain's recession grew stronger in the second quarter of the year and is expected to get worse as austerity measures introduced in response to the Euro zone debt crisis cut into demand for goods and services.
A rush by consumers and firms to withdraw their money from Spanish banks intensified in July, with private sector deposits falling almost 5%, to 1.509 trillion Euros at end-July from 1.583 trillion Euros a month earlier.
Adding to Spain's bleak outlook, the north-eastern region of Catalonia, which represents around a fifth of the country's economy, said it needed a 5 billion Euro rescue from the central government to meet its financing needs and debt costs this year.
Against this background European Council President Herman Van Rompuy said it was up to Spain to decide whether to apply for additional aid, after meeting with Prime Minister Mariano Rajoy in Madrid. Rajoy repeated that he needed more details from the European Central Bank to help him decide.
Their meeting came a week before the ECB discusses new measures to help debt costs in European nations' hardest-hit by the crisis. The ECB meeting on September 6 also coincides with a visit by German Chancellor Angela Merkel to the Spanish capital and a key longer-term bond auction.