Correa and Assange, "two of a kind" writes Nobel Prize Vargas Llosa
Thursday, August 30th 2012 - 04:50 UTC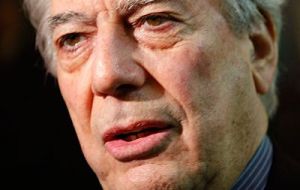 The Ecuadorean president Rafael Correa and Wikileaks founder Julian Assange are "two of a kind" because of the multiple abuses to freedom of expression committed by both, wrote Peruvian novelist Mario Vargas Llosa in one of his weekly columns on current affairs.
According to the Literature Nobel Prize "there is such a tangle of confusions and lies" surrounding Assange that "millions all over the world are convinced that the Australian is a political refugee persecuted by the US and who has been saved 'in extremis' by none less than President Rafael Correa from Ecuador"
Correa extended political asylum to Assange who is currently holed at the Ecuadorean embassy in London, but the UK government has insisted that it will comply with the extradition request from the Swedish courts that accuse him of crimes related to sex abuse.
"The governments of Ecuador, together with Cuba and Venezuela have perpetrated the worst abuses and excesses against the media in Latinamerica, closing broadcasting stations, newspapers, forcing journalists and dailies to servile courts for daring to expose the corruption and influence-trafficking in the administration of President Correa", argued Vargas Llosa.
According to the Nobel Prize the alleged risk/fear that if Assange is handed over to the Swedish justice, the Stockholm government could deliver him to the US "is for the moment a presumption with no basis and has no other purpose than surround the character with an aura of freedom martyrdom, which he certainly does not deserve".
Vargas Llosa said that "Assange is no victim of freedom of expression, but a fugitive from the law using that pretext to avoid having to face in court the claims that he committed sexual related crimes".
On assessing the popularity of Assange obtained following the release of thousands of secret diplomatic documents from the US government, the Peruvian novelist points out that his followers should remember that "the other side of freedom is legality, rule of the law, which if absent disappears in the short or long run".
"Freedom is not and can't be anarchy and the right to access information does not mean that in a country the fine line between what is private and confidential and all the other activities of an administration must become immediately public and transparent".
In the current circumstances "there is no reason to consider Julian Assange a freedom of expression crusader, but rather a witty opportunist that in merit to his good sniffing, sense of opportunity and his web capabilities has set up a scandalous operation which rendered him international fame and the false feeling that he was almighty, invulnerable and could commit all kind of excesses".
Vargas Llosa concludes arguing that Assange made a terrible mistake and "it is not impossible to make him remember that with his involuntary assistance, believing he was acting for freedom, he actually was playing to the hands of the most diehard enemies of freedom of expression" such is the case of the Ecuadorean president.