Iran, Venezuela and Egypt, a possible peace troika to address the Syria situation
Thursday, August 30th 2012 - 04:43 UTC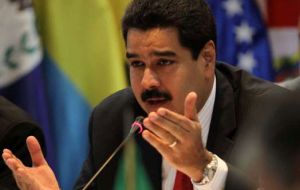 Venezuelan Foreign Minister Nicolas Maduro has welcomed Iran's proposal for the formation of a troika committee on Syria consisting of Iran, Egypt, and Venezuela
Maduro made the remarks in an interview with reporters from the Iranian media upon his arrival in Tehran on Wednesday to attend the XVI Summit of the Non-Aligned Movement (NAM), which opened in Tehran on Sunday and closes on Friday.
"Playing a role by regional countries in (resolving) the crisis reduces the interference of external powers in Syria," the Venezuelan foreign minister stated, according to the Persian service of the Mehr News Agency.
"Before everything else, we call on the major powers to stop interfering in Syria's internal affairs and allow the Syrian people to live in calm, peace, and independence.
"(Iran's) proposal is a very good proposal (according to which) the major powers and foreign powers will stop interfering in the Syrian crisis with the involvement of the conflicting sides and regional countries to resolve the problem.
"The country of Venezuela welcomes the proposal because it will (help) the people of the country of Syria to achieve peace and true calm."
Commenting on the NAM summit in Tehran, Maduro stated, "The summit is being held in a country whose people are diligent and are seeking progress and peace. One hundred and twenty countries have gathered together in Iran to step toward world peace."