Mexico strikes light crude oil in deep water deposits; boost for Pemex morale
Thursday, August 30th 2012 - 05:04 UTC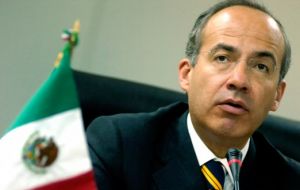 Mexico's state oil company Pemex has made a new light crude oil find in the Gulf of Mexico, President Felipe Calderon said on Wednesday, the first such discovery in the country's push to exploit deep water deposits and boost output.
The Trion 1 well is 177 kms off the coast of Tamaulipas state in northern Mexico. Pemex expects to certify new proven, probable and possible (3P) reserves of 400 million barrels of crude from the new find.
"It's the first big discovery in deep waters," Calderon told reporters a press conference at Los Pinos, the official presidential residence.
The light crude find is significant because it is easier to process and therefore more profitable than heavy crude, which makes up the bulk of Mexico's output. Calderon said "potential" output from the find could range between 4,000 and 10,000 barrels per day (bpd).
Pemex began drilling the Trion well within the Perdido Fold Belt in late May at a depth of approximately 2,500 meters. According to data released by Pemex Exploration and Production in May, the company has invested nearly 1.59 billion dollars looking for oil or gas from a total of 19 deep water wells.
Since then, Pemex has drilled four additional wells in deep waters. Pemex has been drilling in the region since 2006.
In a local radio interview on Wednesday afternoon, Carlos Morales, Pemex's director of exploration and production, said production from the new find isn't expected for about five years.
Up until this latest announcement, Pemex had only discovered commercial quantities of less-profitable natural gas in its territorial waters in the Gulf of Mexico.
Pemex believes there are up to 29 billion barrels of crude equivalent in the Gulf, more than half of Mexico's potential resources. The company has expressed interest in contracting private companies to help it tap the deep-water riches.
Mexico, the world's No. 7 oil producer, has seen output drop to around 2.5 million bpd from a peak of 3.4 million bpd in 2004. If Pemex cannot find and exploit new discoveries to replace declining production at its largest, aging fields, the country risks becoming a net importer of crude within a decade.