Venezuela investigating alleged massacre of indigenous people in the Amazon
Thursday, August 30th 2012 - 03:50 UTC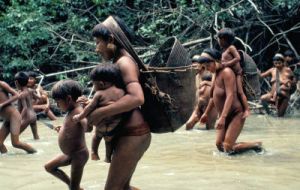 Venezuela announced it is investigating an alleged massacre of indigenous people in the Amazon rainforest, after a tribal group told the government that a village of 80 natives was attacked in July from a helicopter.
In a statement, the government said it had received word of the alleged attack by a group representing the Yanomami tribe, an indigenous people native to southern Venezuela.
The area, along the country's long, remote border with Brazil, has a history of violent clashes between natives, gold prospectors, other would-be developers in the region and smugglers.
A spokeswoman at the Venezuelan public prosecutor's office said the government could not yet confirm the attack or how many people may have been killed.
Fellow Yanomami and an international native rights group, however, said only three people, from the village of 80, are known to be alive.
Luis Shatiwe, a leader of the Yanomami group, told a Venezuelan newspaper that the survivors were hunters who had been out of the village at the time of the alleged attack. The hunters, he added, heard a helicopter and gunfire and said a communal hut in the village was destroyed by fire.
Survival International, a London-based organization that seeks to protect native peoples, said in a statement that another Yanomami told the group that tribes' people had found bones and charred bodies in the village.
The group and the government both said that word of the alleged massacre is just emerging because of the remote location of the village, a five-hour helicopter flight, or a five-day walk, from Puerto Ayacucho, the capital city of the southern state of Amazonas.