Argentine credit card holders' buying abroad charged 15% income tax advance
Friday, August 31st 2012 - 05:03 UTC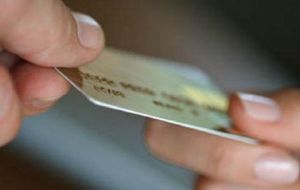 Argentine credit card purchases abroad will be charged with an additional 15% income tax advance, AFIP tax agency reported on Thursday. The extra amount will be deductible from the income tax and the personal assets tax.
"The measure will be implemented in September and the additional figure will be reflected in the following month's bill", said AFIP's head Ricardo Echegaray.
Another measure announced on Thursday will make credit card companies report all the purchases by credit card holders, including those done in foreign countries and in Argentina. The data will be cross checked with requests to buy foreign currency, and the decision becomes effective next October
Thus, AFIP seeks to have a stronger grasp on contributors, who according the agency's data they spent 7.4 billion pesos (over 1.5bn dollars at the official exchange rate) between January and 18 June 2012 in purchases paid with 168,000 credit cards.
"We want to make sure that a limited group of 168.000 credit card holders have correctly made their tax statements correctly", said the AFIP chief.
The measure to help control the drain of hard currency from Argentina is expected to have an impact on Argentine tourists travelling abroad particularly to neighbouring countries this coming spring and summer, mainly Uruguay, Chile and Brazil.