EC with "no powers to intervene" in Spain/Gibraltar bay fishing dispute
Friday, August 31st 2012 - 01:10 UTC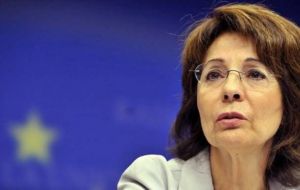 The European Commission has told a South West of England and Gibraltar Member of the European Parliament that it has no powers to intervene in the ongoing standoffs at sea between local law enforcement agencies and the Guardia Civil.
Tory MEP Ashley Fox had described the Guardia Civil incursions as "a deliberate provocation" and urged the Commission to step in.
But the EC response to Mr Fox's question in the European Parliament last June was short and non-committal.
"The incidents evoked in this question have their origin in a territorial dispute between Spain and the UK in which the Commission has no powers to intervene," said Maria Damanaki, European Commissioner for Maritime Affairs and Fisheries.
In his question Mr Fox had praised the "dignified and restrained" response of the Gibraltar authorities to the "illegal" Spanish incursions.
He told the European Parliament that the Gibraltar and British authorities had sought to avoid any escalation of the situation.
"However, with armed patrol vessels coming into close proximity, this has the potential to quickly turn into a lethal situation," he said at the time.
However the British Government is full-square behind Gibraltar in wanting to find a diplomatic solution to the fishing dispute, the Governor, Sir Adrian Johns told Gibraltar Chronicle earlier this week.
Sir Adrian was quoted as saying that it was important to create the conditions for a successful outcome and that this meant all sides keeping cool heads to allow the process to go forward. He added major confrontation right now would not put Gibraltar in a better position.