Ecuadorian columnist sentenced to jail and million dollars fine granted asylum in the US
Friday, August 31st 2012 - 00:42 UTC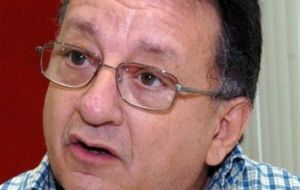 A newspaper columnist who fled Ecuador after he was sentenced to jail and ordered to pay millions of dollars in a libel case pushed by President Rafael Correa has been granted asylum in the United States, his lawyer said on Thursday.
Emilio Palacio, a columnist at El Universo, one of Ecuador's leading newspapers, has been living in Miami since last year. He applied for asylum claiming he was a victim of political persecution.
"It's been a long road for him and his family" said Palacio's lawyer, Sandra Grossman.
Last year, a court in Ecuador sentenced Palacio and three owners of El Universo to prison and ordered them to pay 40 million dollars in damages, a sum that stunned global media watchdogs.
In February, Correa threw out the sentences, saying in a televised speech he had decided to "pardon the accused and grant them remission of the sentences that they rightly received."
In its case against Palacio, the government cited a 2011 opinion piece he wrote titled "No To Lies" which referred to Correa as "the Dictator" and criticized his actions during a bloody police revolt a year earlier.
News that Palacio had been granted asylum comes amid diplomatic tensions between Ecuador and Britain over the fate of WikiLeaks' founder Julian Assange.
The Australian was granted asylum by the Correa government earlier this month on the grounds he might be a victim of political persecution.
Assange has been holed up in the Ecuadorian Embassy in London for more than two months in a bid to avoid extradition to Sweden, where he is wanted for questioning over sexual assault and rape allegations.
Upon granting asylum to Assange, the Ecuadorian government argued that legal evidence showed he would not get a fair trial if eventually transferred to the United States. State-run media have for weeks run stories portraying Assange as a champion of media freedom.
However, tensions have steadily mounted between Correa, a fundamentalist populist who took office in 2007, and many of Ecuador's leading privately owned media. He faces accusations from some press freedom watchdogs that he uses the courts to muzzle the media, a charge he denies.
Correa argues that many media outlets in Ecuador are controlled by a handful of families who have ties with opposition politicians and are bent on undermining support for his government.
Last year Correa held a national vote on a package of ten proposals to reform the country's institutions. Among the proposals approved was regulating the content of newspapers and broadcasters, and was described as a bid to modify oversight of the court systems and prohibition against owners of financial or media institutions from having other business interests are among other proposals.
The opposition the reforms would undermine the judicial system and give the president absolute power.