Germany wants Google to pay fees to the media for displaying news headlines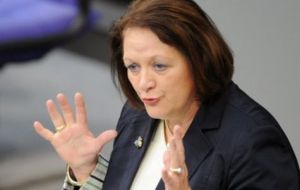 The German government approved this week a controversial bill that would require Internet search engine companies such as Google to pay fees to the German media for displaying news headlines on their websites.
Google's German office condemned the decision as a "black day" and said it hoped the bill would be rejected by the Bundestag (parliament). Until now, news aggregators have not been subjected to charges in Germany for their news pages that quote headlines and snippets from media sources.
The bill creates a new form of copyright which would enable media outlets to license the use of headlines. Government spokesman Steffen Seibert said the bill would only apply to commercial news portals, meaning bloggers, non-profit groups, lawyers and consumers could continue to quote headlines on their own websites without paying. News portals have fought a series of skirmishes with the European media in recent years.
In 2007, a Belgian court barred Google from displaying the first sentence of Belgian media stories. The French news agency AFP sued the search engine in 2005 claiming it illegally reproduced articles and photos. Google and AFP settled the lawsuit two years later.
There has been strong criticism of the bill on social networks, whereas the media companies have pressed the cabinet of Chancellor Angela Merkel.
"Publishers should be better protected on the Internet," reads a statement from Justice Minister Sabine Leutheusser-Schnarrenberger posted on the homepage of Germany's Justice Ministry. "They will now receive a tailor-made copyright law for their online presence."
Essentially, the law is an attempt to ensure that German news websites receive a share of the profits Google makes by selling ads on its news pages. Many publishing houses in Germany, led by media giant Axel Springer, have complained that aggregator sites essentially make their money by leveraging the work of others.
"Our children learn that, if they want something, they have to ask first," German tabloid Bild, an Axel Springer publication, wrote on Thursday. "That is something that Google and co. should do as well. Those who use the work of others must accept a price tag."