"Now is the time to restore the promise of America" pledged candidate Romney
Friday, August 31st 2012 - 12:01 UTC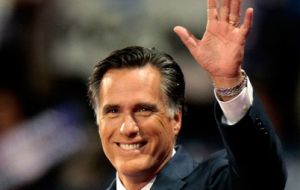 Mitt Romney has pledged "to restore the promise of America", as he accepted the Republican presidential nomination at the party's convention in Florida. The former Massachusetts governor accused President Barack Obama of failing to deliver on his soaring promises of hope and change. Mr Romney will challenge the Democratic president in November's election.
The speech was the climax of the three-day Republican convention, which correspondents saw as an attempt to show the human side of a candidate who is sometimes accused of being opaque and distant.
Mr Romney began the most important speech of his political career by accepting the nomination that he was overwhelmingly awarded on Tuesday by thousands of delegates at the gala in Tampa.
It secured him the position that eluded him in his first presidential bid in 2008, when Arizona Senator John McCain became the Republican nominee. "I wish President Obama had succeeded because I want America to succeed," Mr Romney said, in a speech that was watched by millions across the US.
The 65-year-old presidential nominee recounted details of his Mormon upbringing, with anecdotes about his family life and his parents' loving marriage.
Mr Romney talked about his own experiences as a father, apparently becoming emotional as he talked about the times when he and his wife Ann would wake up to find "a pile of kids asleep in our room".
He also levelled a barrage of attacks at President Obama: "The time has come to turn the page. Today the time has come for us to put the disappointments of the last four years behind us: to put aside the divisiveness and the recriminations.
"Now is the time to restore the promise of America," he added.
Mr Romney vowed to create 12 million American jobs over the next four years and turn around an economy saddled with an 8.3% unemployment rate. He also pledged to make the US energy independent by 2020, cut the national deficit and negotiate new trade agreements.
"I will begin my presidency with a jobs tour. President Obama began his presidency with an apology tour," he said.
He accused the president of having "thrown allies like Israel under the bus", while being too lenient with Iran. "Under my administration, our friends will see more loyalty and Mr Putin will see a little less flexibility and more backbone," Mr Romney said.
He brought the crowd to its feet when he pledged to repeal Mr Obama's signature healthcare bill.
The event ended with the entire Romney family - his wife, five sons and their wives and most of his 18 grandchildren - on stage with him as thousands of balloons were released over the convention floor.