Soy reaches record price at 650 dollars the ton, and could keep climbing
Friday, August 31st 2012 - 04:42 UTC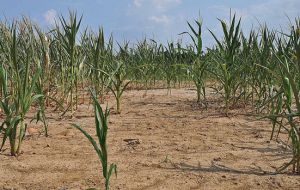 Soy beans in Chicago climbed to their highest having advanced 0.4% on Thursday to 650.47 dollars the ton, while corn up 0.2% to 319.47 dollars the ton came closer to its record value of last August, 327.25 dollars. Wheat meantime slid 0.2% to 324.64 dollars the ton.
According to Argentine grain and oilseed consultants Granar, "climate in the US is forecasted dry until Sunday, when abundant rains are expected", which anticipates that the market will remain bullish.
Futures and Options, from Rosario, said that soybean prices are on the upturn because investors are covering their positions concerned that climate conditions in the US remain unfavourable for early sows. "The soybean crop could be delayed because of the arrival of hurricane Isaac, and the same could be said for maize".
More specifically with maize prices, there are fears of a deterioration of cultivations because of the tropical storm bashing on the US.
Wheat however was calm with a slight yield "despite continuous rumours of limits to Russian cereal exports", while the stronger US dollar could cut the higher price tendency.
On Wednesday the unfavourable US weather had the soybean balloon in Chicago reaching 647.90 dollars the ton for September delivery, which was a new record, and 1.8% higher that on Tuesday. Maize and wheat also climbed on Wednesday (up 2.6%) to 318.98 dollars and (up 3.6%) to 325.37 dollars the ton respectively.