Colombia GDP overtakes Argentina's, "a dream come true" says Finance minister
Saturday, September 1st 2012 - 06:20 UTC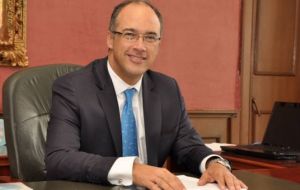 Colombia's outgoing Finance minister Juan Carlos Echeverry said on Friday that the country's GDP overtook Argentina's thus making Colombia's economy the second largest of South America and third of Latinamerica, behind Brazil and Mexico.
Etcheverry who is expected to hold a top job at the IMF made the statements in an interview with a Bogotá radio station indicating that 'the great news' of his stepping down from cabinet last August 23 was precisely that Colombia had made "a dream come true".
"Colombia overtook Argentina's GDP; we are the second economy in South America behind Brazil and third largest behind Brazil and Mexico. In the first two years of President (Juan Manuel) Santos administration we managed to overtake the Venezuelan economy and now the Argentine, it's a dream come true", said Echeverry.
"Colombia is advancing, we're doing things, the right things, with great impetus and advancing", added Echeverry who anticipated he was certain that his successor in the post, the current Mines and energy minister Mauricio Cardenas, "will continue advancing along that path".
Echeverry added he had applied to become the IMF Western Hemisphere director in charge of monitoring the Latin American and Caribbean economies.
The outgoing minister also revealed that Colombia may change its representation on the IMF executive board, moving from a nine-nation constituency led by Brazil to another headed by Mexico.
Colombia together with Mexico, Peru and Chile have created the Pacific Alliance, an organization to promote trade and investment, which contrary to what is going on at the 'protectionist' Atlantic side of South America, these countries are identified with open economies, welcome foreign investment, promote trade and the private sector.
In an interview with Bogotá's El Tiempo newspaper, Echeverry said that according to the current exchange rates, the Colombian GDP at the end of the year will reach 362 billon dollars or 15bn ahead of Argentina's 347 billion.
The difference, based on IMF data, is attributed to the fact Argentina's GDP is calculated at the unregulated exchange rate of 6.37 Pesos to the US dollar instead of the 4.67 Pesos of the official exchange. At the unregulated dollar market in Argentina, the Peso has slid almost 30% to 6.5 per dollar while the regulated official exchange, but everyday more inaccessible stands at 4.67 to the greenback.