Falklands' new Tourism managing director targets the US market
Saturday, September 1st 2012 - 06:43 UTC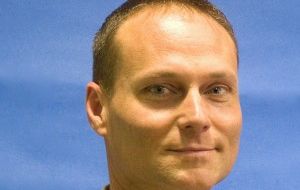 Tony Mason, the newly appointed managing director of the Falkland Islands Tourist Board (FITB), has just taken up his position in Stanley, the Falklands' capital. Originally from Atlanta, Mason is responsible for overseeing the tourism strategy.
"I am very excited about further educating trade and consumers on the many tourism opportunities the Falklands has to offer," said Mason interviewed by Travel Pulse.
"Land-based visitors will remain a core target audience, particularly birdwatchers, photographers and nature lovers, encouraging them to see more and stay longer as well as continuing to improve the Falklands experience for cruise passengers."
"In the US," said Mason, "we are targeting cruise passengers as well as upscale travellers who specifically seek wildlife (particularly bird watching) destinations. Cruise arrivals make up more than 60% of total arrival numbers (it is predicted to be 35,000 in 2012) of the predicted total 57,000 travellers in 2012."
There are days in the season when the population of the Falklands capital Stanley -- approximately 1,500 -- can be tripled by cruise arrivals. "Land-based travellers are predicted to be 7,600 (about 1,600 of those arrivals coming from tourism, which reflects an increase of 29% over 2011). Land-based travellers stay in the Falklands for seven days," Mason said.
The Falklands has garnered interest from a handful of important wholesalers who have added packages including Goway, Latour, and Cox & Kings.
According to Mason, Chile is the key destination that the Falklands are traditionally combined with and, he said "it is a great complimentary experience. Travellers can easily stop in Punta Arenas (Patagonia) and Santiago on their way to and from the Falklands".
With the traditional peak season beginning in October, the FITB hopes to begin stimulating the North American market by seeking additional cruise itineraries with both expedition and larger cruise ship partners, working with current key wholesalers like Goway and Latour to build sales tools and incentives, launching an online agent training system which will include incentives and possibly fams, attending USTOA for the second time, and attending the two California Travel and Adventure shows in January.
Mason and the FITB believe the Falklands are in a position similar to what the Galapagos Islands were in a few years ago. The FITB says it has a significant education plan ahead designed to stimulate the market. (Travel Pulse).-