Peña Nieto confirmed as president-elect; takes office December first
Saturday, September 1st 2012 - 06:56 UTC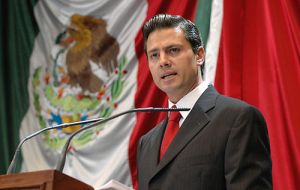 Mexico's electoral tribunal officially named Enrique Peña Nieto as president-elect on Friday, ending a drawn-out dispute over the results of the July election.
The 46-year-old former State of Mexico governor will be sworn in on December first and return the Institutional Revolutionary Party (PRI) to power after 12 years in opposition.
The electoral tribunal on Thursday threw out a bid by populist runner-up Andrés Manuel López Obrador to annul the vote result after he accused the PRI of vote buying and money laundering.
The declaration clears the way for Peña Nieto to forge deals in Congress over economic reforms needed to revitalize growth in Latin America's second-largest economy.
With Peña Nieto returns (hopefully) a refurbished and rejuvenated PRI, which had dominated Mexican politics, as an almost only party system, for over seven decades until defeated in 2000 by Vicente Fox and the conservative pro-business PAN.
Six years later PAN repeated with Felipe Calderón with a minimum difference, and at the time runner up Lopez Obrador also challenged the electoral result and organized protests for months even after Calderon took office.