LAN first company in the Americas to take delivery of Boeing 787 Dreamliner
Monday, September 3rd 2012 - 06:40 UTC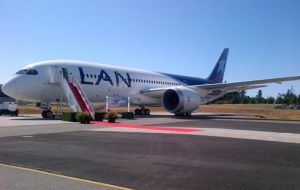 Chilean flag carrier LAN became the fourth airline in the world – and the first airline in the Americas –to take delivery of a Boeing 787 Dreamliner. The handover ceremony took place at Boeing 787 production line at Everett, state of Washington.
The aircraft, configured with 217 seats in coach and 30 seats in "Premium Business", departed Everett Sunday for its delivery flight to LAN's main base in Santiago. The jet will begin passenger flights for LAN later this year.
LAN has purchased 32 Boeing 787 that it will receive in the coming ten years with the first three this year, becoming the largest financial operation of the company involving 4.2 billion dollars.
"LAN is proud to be the first airline in the Americas to receive the 787 Dreamliner" said CEO Ignacio Cueto present at the ceremony. "This is not only a milestone for LAN, but also for all of our passengers that will experience an enhanced LAN in-flight experience thanks to the cutting edge technology and visionary elements of this new aircraft. The Dreamliner will make it possible for us to cover greater distances in a more environmentally conscious and highly efficient aircraft which will help ensure our sustainable growth."
LAN hasn't given an exact date or schedule, but says Dreamliner service will be offered from Santiago, Buenos Aires, Lima, Los Angeles, Madrid and Frankfurt as those routes are "gradually integrated during the aircraft's first year of service" for the carrier.
LAN did say it expects to begin commercial operations from Los Angeles to Lima on the 787 before the end of this year. LAN is in the process of merging with Brazilian carrier TAM to become one of the largest world airlines.
The LAN Dreamliner has 217 Economy seats and 30 for Premium Business.
Japan's All Nippon Airways became the world's first airline to take delivery of the Dreamliner, operating its first passenger jet on the flight last October. Japan Airlines became the second to do so, inaugurating its Dreamliner service on the Tokyo-Boston route in April. And, earlier this month, Ethiopian Airlines became the third carrier to take delivery of a 787.
United showed off its first Dreamliner at an official "unveiling" earlier in August in Everett, but the carrier has yet to actually take delivery of the aircraft. That's expected to happen this month and the Dreamliner could begin passenger flights for United by late October