Nearly 11.500 humpback whales counted off the coast of Brazil
Tuesday, September 4th 2012 - 00:25 UTC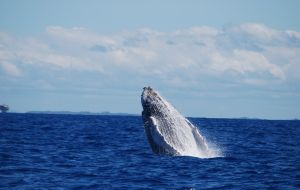 Whales are returning to the coast of Brazil. Last year, nearly 11,500 humpback whales were counted off the coast of Brazil - a new record, the Baleia Jubarte Institute cheered on Sunday in a report.
That's 2,200 more whales than were counted four years ago in the same stretch of water, between Rio de Janeiro and the north-eastern Sergipe state, the institute said.
And a decade ago, when scientists made their very first count in these waters, they were only able to spot 3,400 of the aquatic giants.
The species - which travels to the area from Antarctica to breed each year from July to October - had nearly completely disappeared from Brazilian waters after the Spanish first introduced predatory whaling in the 1600s.
Institute chief Milton Marcondes says the whales' fat once was used as fuel for public lighting and in construction. Hunting was banned in 1966, when only about 1,000 whales were left.
Marcondes says restoration efforts have helped the species recover in spite of global warming, accidents with boats and fishing nets.