Strong Peso and imports' controls vital for reindustrialization of Argentina
Tuesday, September 4th 2012 - 07:11 UTC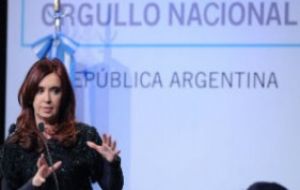 President Cristina Fernández blasted those sectors that demand a cheaper Peso (and stronger US dollar) and defended the exchange rate and imports' controls saying they are "vital" for the industrialization process of Argentina.
During a nation-wide televised speech from the Industry Day celebration held at Tecnópolis, the Argentine president admitted that the productive sector "still is highly dependent on imports" so "a devaluation that would make the US dollar dearer will have a negative impact" on industry.
"The administered exchange rate has enabled us to grow: we must look after the exchange rate and continue along this path to ensure the substitution of imports helped with an accessible exchange rate", underlined the Argentine president.
Her Industry Day speech on national television was scheduled at 22:00 hours but was delayed twenty minutes and lasted until 23:30 taking over prime time.
This was the sixteenth time President Cristina Fernandez appeals to national television for one of her speeches so far this year.
She insisted that the "current industrialization process in Argentina is not a variable of the economic model, but part of the country's political project" which means strong industry, substituting imports, ensuring jobs and a fair distribution of wealth.
"Each country chooses a project that will serve its great national interests which can't be other than growth, creating jobs and promoting consumption, which in our case is definitively re-industrialization", emphasized the Argentine president.
"The decision not to be relegated to a country that does not produce value, a country where salaries are agreed in wage councils and with the highest industrial salary in Latin America are motives to celebrate", said the president.
In her speech she promised a new Workers' risk insurance (ART) law for next year, and proposed the updating of compensation payments at the wage Council.
Most of the cabinet ministers attended the annual celebration besides UIA president José de Mendiguren, the leader of the CAME, Osvaldo Cornide, and the head of the Industrial Metal Workers Association (ADMIRA), Juan Carlos Lascurain, among others.
This was not the first time and won't be the last but Cristina Fernandez hour long speech on national television in areas of the City of Buenos Aires was received with the typical protest 'weapon': pot banging.
However the social networks also played an important role since the organization and timing of the protest was done through Twitter.
Protests in middle class neighbourhoods are becoming more common in Buenos Aires as people join to complain and demand solutions to problems such as insecurity and crime, inflation and corruption.