Britain had nothing to do with the proposal to hold a Falklands' referendum
Wednesday, September 5th 2012 - 06:07 UTC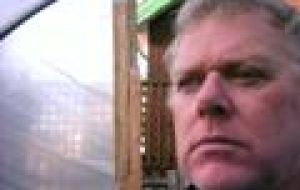 By Robin Goodwin - It appears that Argentina would have the world believe that it is Great Britain who has proposed that we hold a referendum next year. This could not be further from the truth. Britain has supported our desire to have such a referendum.
The inhabitants of the Islands through their elected Councillors have made this request to once and for all show the world that we have the right to determine our own future and the referendum is the best means to make such a statement. Great Britain have always said that they would respect the wishes of the Falkland Island People to determine their own future and that they would not change those wishes unless the islanders wanted it.
Argentina has in the eyes of the Falkland people been nothing more than bullies and has tried every trick in the book to make our existence as unbearable as possible.
We are a peace loving people and are true descendents of a people that chose to travel to the remote South Atlantic almost 200 years ago and who settled these Islands and pioneered the very existence we have today.
It is sad to see a neighbouring country go to such lengths to interfere with what is rightfully our home and has been for more than seven generations. Islanders have long believed that the real reason Argentina wants our Country is because it has richness within the surrounding seas way beyond most peoples imagination.
We are led to believe that we live in a new world of order called the 21st century but some have chosen to stay in the dark ages. If as we believe we have a legitimate right to a way of life of self determination now is the time for us to tell the world what we want and we would expect all democratic nations to support our wishes.
I am a fifth generation Islander and this is my home. Not Great Britain 8,000 miles away and certainly not Argentina 300 miles away. The Falkland Islands belong to the inhabitants just as other Countries belong to their inhabitants and we ask the rest of the world to recognise that fact.
Robin Goodwin, Falkland Islands