EC regrets stances of "protectionism" and "populism" in some Mercosur members
Wednesday, September 5th 2012 - 00:14 UTC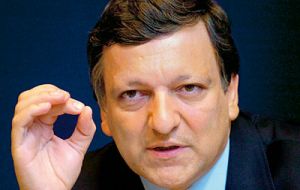 The president of the European Commission Jose Durao Barroso said on Tuesday that the EU 27 members still want to reach a free trade agreement with Mercosur, but warned that the "protectionist stances" from some of its members makes it difficult.
Addressing European ambassadors Barroso underlined that the objective of Brussels is to close an association deal with Mercosur that includes a free trade chapter, despite the fact that negotiations in the last months have not registered advances.
"It is fair to say that the recent protectionist stances of some of Mercosur members do no help the spirit of negotiations", underlined Barroso. Nevertheless he was confident that when the next EU/Latinamerica summit scheduled for January 2013 in Chile, "a strong and clear message condemning protectionism and certain forms of populism" will be agreed and released.
The EC president did not mention any country in particular in his speech but in recent months trade relations between the EU and especially Argentina have been extremely tense.
Last week the EC decided to open an investigation following a claim presented in July by the European Bio-diesel Council which considers that bio-diesel imports from Argentina are being "dumped", causing a serious problem to the European industry. By dumping the EU means the sale price in the EU is cheaper than in origin, in this case Argentina.
Barroso also referred to the bilateral relations with Brazil, the leading Mercosur member together with Argentina, Uruguay, Venezuela and Paraguay that has been suspended from the group's activities following the removal, via political impeachment in the Senate of Fernando Lugo, former president of the country.
According to the EC president the cooperation agreement between the EU and Brazil dating back to 2007 "has allowed to advance and make progress, but it has yet to achieve its full potential in what refers to cooperation in addressing global issues".