Falklands' delegates at the Parlamericas assembly in Panama as invited observers
Wednesday, September 5th 2012 - 19:25 UTC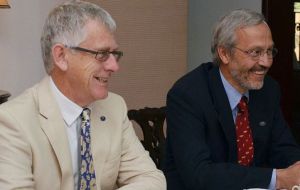 Politicians and opinion formers are genuinely interested to hear about the Falkland Islands and plans for the coming referendum said lawmakers from the Islands who recently participated at the Parlamericas, (Parliamentarians for the Americas) conference in Panama City (*).
"We attended the conference as invited observers and it gave us a great opportunity to meet with fellow parliamentarians from Canada down to Chile", said Members of the Falklands elected Legislative Assembly, Dick Sawle and Dr. Barry Elsby.
"People are genuinely interested to hear from us and take a great deal of interest in what we have to say. Our reception in Central America has been excellent and I believe we have forged many useful relationships here with both politicians and opinion formers", underlined MLA Sawle on the discussions held at the Parlamericas 9th Plenary Assembly (August 31/Sept 1).
MLA Sawle said that at the conference they were able to meet a variety of delegates and deliver some Falklands' key messages to parliamentary colleagues related to the claims over the Falklands from Argentina.
"We told our colleagues why we have the right to self determination, how we are a people in our own right, many of whom have lived in the Falklands for many generations going back almost two centuries, and how we have a system of self-governance which relies entirely on the decisions of the eight democratically elected Islanders, members of the Legislative Assembly", pointed out MLA Sawle.
The Falklands representatives also gave details of the upcoming referendum on the political status of the Islands that will take place next March, organized by the local government on a local initiative and following international standards of question drafting and transparency, including inviting foreign observers (even from South America) to monitor the process.
"This will send a potent message to the world of what the Falklands want for their future and how it will be decided by us, who else can decide on our future and about our home".
At the same time the two MLAs were able to inform people that the Falkland Islands are not a colony of Great Britain, but that "UK supports our right to determine our own future, develop our own economy and very importantly that we do not rely on Great Britain for any financial aid whatsoever. The only areas where we do depend on Great Britain are those of defence and foreign affairs".
"These are very key points, amongst many others, that we were able to disseminate and which we are continuing to disseminate throughout the region to various media and politicians" anticipated MLA Sawle and MLA Elsby,
(*) Through various activities, ParlAmericas aims to contribute to strengthening democracy and governance in the Hemisphere, to confronting threats to hemispheric security, and to defending the rights of the citizens of the region. ParlAmericas' member states are also committed to reducing poverty and achieving economic development
ParlAmericas membership is composed of the national legislatures of the 35 independent states of the Americas. In order to observe a balance in regional representation, the hemisphere has been divided into four sub-regions: North America, Central America, Caribbean and South America.
Parlamericas was started on March 2000 in Washington with the creation of the Steering Committee of FIPA; Inter Parliamentary Forum of the Americas and a year later held its inaugural meeting with a special ceremony held in the chamber of the House of Commons of Canada.
The current ParlAmericas Board of Directors and Executive Council has as president Randy Hoback from Canada and includes delegates from Panama, Ecuador, Canada, Mexico, Cost Rica, Honduras, Cuba, Colombia, Paraguay and Chile.