Soybeans reach record price in Chicago, past the threshold of 650 dollars/ton
Wednesday, September 5th 2012 - 05:47 UTC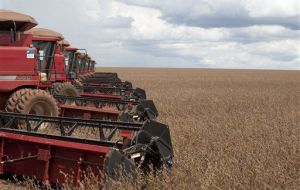 Soybean prices again climbed on Tuesday in Chicago reaching a historic record of 650.74 dollars the ton, boosted by investors' purchases fearing limited supplies because of the worst drought in the US in the last five decades.
The oil seed ended up 0.4%, with peaks of 1.5% during the day's trading, while corn climbed 0.5% to 317 dollars the ton and wheat slipped 0.5% to 318.21 dollars the ton.
The market was also influenced by China's demand, the world's main buyer of soybeans and because of signals that Brazilian stocks, the second global exporter behind the US, were running out.
Corn on the other hand advanced pushed by purchases from investment funds and expectations of possible further stimuli measures in the US to boost the economy.
Meanwhile in Argentina the government announced it had liberated 2.75 million tons of corn from the 2011/12 season for export, thus taking the total allowed corn exports of Argentina to 16.45 million tons.