Latam governance and economic performance receives positive balance from OAS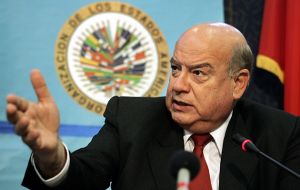 The Secretary General of the Organization of American States (OAS), José Miguel Insulza offered a positive balance of governance in Latinamerica and the performance of the region's economy, in general, during the last twelve months.
"The balance of the political and economic performance of the region during the last twelve months in general is positive," said Insulza addressing the Sixteenth Annual Development Bank of Latin America (CAF) Conference, which was co-organized by the OAS and the Inter-American Dialogue.
"Politically, overall we had a normal year," said Secretary General Insulza, who mentioned the general elections in Mexico, where the OAS "for the first time sent an Electoral Observation Mission," and in the Dominican Republic.
Insulza added that although "challenges" remain, such as the elections in Venezuela and in some Caribbean countries, the balance "in general" is that it has been a good year from "the point of view of democratic governability."
He also noted that "we have the problem of Paraguay, but we are working in the direction of solving it."
Economically, the Secretary General acknowledged that there is "some concern" about the behaviour of the economy that can be expected to continue until Europe and the United States achieve stability, but "despite Latin America has not had the same economic performance as last year, the balance is positive".
In his summary, the OAS Secretary General recalled that the Sixth Summit of the Americas was held this year in Cartagena, Colombia, about which he said, "in general terms, it was good on balance," although he noted that the fact that it took place in an election year for the United States limited the ability of U.S. President Barack Obama to "answer some of the issues" present in the debate during the presidential meeting.
Insulza further emphasized the directive that emerged from the Cartagena Summit, which gave the OAS "a mandate for a full review of drug policies" that have been implemented in the hemisphere in recent years, in an effort to fight the scourge of drug trafficking.
On recent political events, Secretary General Insulza qualified as very positive the announcement by the President of Colombia, Juan Manuel Santos, on the establishment of negotiations with the FARC; he also referred to "long term problems" still pending resolution in some countries, such as crime and the necessary independence of the judiciary."
For his part, the Executive Chairman of the CAF, Enrique García, referred to the economic growth of Latin America in recent years, nothing that this has caused a change in relations of the region with countries like the United States and Canada.
"This has highlighted the entry of other major global actors in the region, such as China and India", said García.