Obama nominated candidate following ex-president Clinton impassionate speech
Thursday, September 6th 2012 - 06:00 UTC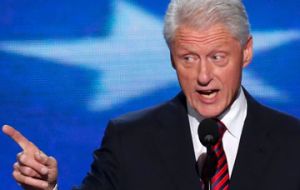 In a speech to the Democratic Party's national convention, former President Bill Clinton appealed to millions of hard-pressed Americans to support the President Barack Obama for a second term in the White House.
In his address on the second night of the convention in Charlotte, North Carolina, Clinton launched on September 5 a full-throated defense of the president's policies.
He said "President Obama's approach embodies the values, the ideals, and the direction America has to take to build the 21st Century version of the American dream -- a nation of shared opportunities, shared responsibilities, shared prosperity, a shared sense of community."
Clinton told cheering Democrats that Obama had "put us on the long road to recovery," laying the foundation for a "more modern, more well-balanced economy."
He also argued that Obama was still in the process of cleaning up the Republicans' mistakes, saying "No president, no president -- not me, not any of my predecessors, no one -- could have fully repaired all the damage that he found in just four years."
After the speech, the Democratic Party officially nominated Obama as its candidate for the November 6 election to face Republican Mitt Romney, a former Massachusetts Governor.
Opinion polls show Obama maintains a thin lead over Romney.
Earlier on September 5, Democrats amended their policy platform to include references to God and Jerusalem as the Israeli capital.
Republicans had seized on the omissions to criticize the Democrats.
Democrats reinstated language from the 2008 platform that said the United States needs a government that "gives everyone willing to work hard the chance to make the most of their God-given potential."
They also restored 2008 language on Jerusalem, declaring it "is and will remain the capital of Israel," and that it "should remain an undivided city accessible to people of all faiths."
Citing poor weather forecasts, Democratic convention organizers meanwhile cancelled plans for Obama to accept the party's nomination at Charlotte's outdoor 74,000-seat Bank of America stadium.
Republicans mocked the decision to move Obama's September 6 speech to the 15,000-seat convention arena, suggesting a lack of enthusiasm was the reason.
Democrats have used their convention to paint Romney, a wealthy businessman, as a man who doesn't understand the struggles of regular Americans.
Addressing the convention on September 4, First lady Michelle Obama talked about her husband's humble roots and described him as a "man we can trust" to revive the nation's weak economy.