OECD warns recession is "taking hold" of Euro zone including largest economies
Friday, September 7th 2012 - 02:55 UTC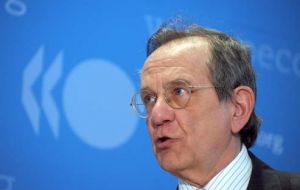 Europe's debt crisis is pushing the 17-country Euro-zone toward recession and dragging down the global economy, the Organization for Economic Cooperation and Development said in a report.
Even growth in traditional economic powerhouse Germany is slowing, and the OECD's interim assessment said that Europe's largest economy could slip into recession by the end of the year
Still, OECD chief economist Pier Carlo Padoan said that he was "encouraged" by recent progress in Europe to get a handle on the crisis.
High borrowing rates are at the heart of the European crisis and have forced several countries to seek bailout loans. Now, larger economies, like Italy and Spain, are suffering high rates. Many experts worry that Europe can't afford to rescue them but also it can't afford to let them fail.
In May, the OECD — which monitors economic trends for the world's most developed economies — said that the 17-country Euro zone could contract by as much as 2% this year. Thursday's assessment didn't offer a comparable prediction, and Padoan wouldn't say if he thought such a severe contraction was likely.
Instead, the report says a recession is "taking hold" in the Euro zone and predicts the three largest economies that use the Euro — Germany, France and Italy — will shrink by 0.2 percent this year.
For Germany, it predicted an annualized contraction of 0.5% in the third quarter and of 0.8% in the fourth.
According to the statistics agency Eurostat, the Euro zone economy shrank 0.2% in the second quarter of the year after growth was flat in the first quarter. A recession is defined as two consecutive quarters of negative growth.
The interim report said it expects the US to grow 2.3% this year, just off its May prediction of 2.4%.
Padoan warned that significant uncertainty marks the organization's predictions and that the global economy faces several risks that could further drag down growth.
The largest is the European response to its debt crisis, which is most responsible for the poor outlook. But Padoan also cited the so-called "fiscal cliff" in the US, a reference to the end of the year when a series of tax increases and spending cuts takes effect.