Australian company estimates 69.4 million tons of 26.5% iron-ore in north Uruguay
Saturday, September 8th 2012 - 06:53 UTC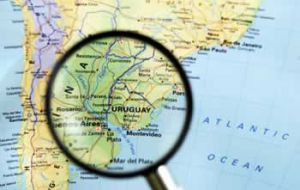 Australia's Gladiator Resources has announced a Joint Ore Reserves Committee, JORC, Indicated and Inferred Resource of 69.4 million tons at 26.5% iron at its Zapucay Project in the department of Rivera, northern Uruguay.
The update from the previous 58.3 million tons at 28% iron, was completed by SRK Consulting and is based on over 26.000 metres of reverse circulation and diamond drilling completed from August 2010 to December 2011.
SRK added the Zapucay resource meets the criteria of having reasonable prospects for eventual economic extraction, as defined by the JORC code, through the derivation of an optimised pit shell, and the application of a cut-off grade.
Gladiator is currently carrying out a Preliminary Feasibility Study that contemplates Stage 1 project development initially designed to mine 3.6 million tons per year and produce 1.2 million tons of concentrate per year.
The Papagayo and Buena Orden ridges represent the main Resource base at Zapucay and will be the main focus of activity as the Project develops.
Zapucay is located in the Isla Cristalina Belt where magnetite mineralization outcrops as prominent northwest-southeast trending ridges of banded iron formation (BIF).
This mineralization has similar characteristics to BIF in Quadrilátero Ferrífero, the well-known Iron Belt located in the Brazilian State of Minas Gerais to the north of the Zapucay.
The Quadrilátero Ferrífero district is recognized for its high quality iron ore production with its largest known iron reserves are composed of BIFs that contain between 20% to 35% iron.