Banking group Lloyds selling Uruguay's operations to Swiss Banque Heritage
Saturday, September 8th 2012 - 06:58 UTC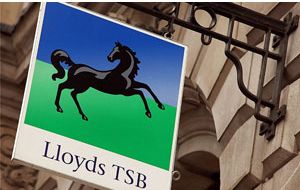 Banking group Lloyds announced on Friday its intention to sell its operations in Uruguay to Banque Heritage (Uruguay) SA in an effort to scale back its international presence.
The lender is selling its Uruguayan retail, commercial and corporate banking operations (which currently operate as a brand of Lloyds TSB Bank).
The total assets being sold – which don't include Lloyds's representative office in Uruguay - were worth £261m at the end of 2011.
"This transaction is in line with the group's strategy of reducing its international presence and the effect of the sale on the group is not expected to be material," the firm said on Friday afternoon.
As always, the transaction is subject to regulatory approval and a number of other conditions, though Lloyds expects the disposal to complete some time next year.
Lloyds Banking Group PLC (LLOY.LN) is 41% owned by the UK Government.
Banque Heritage and its subsidiaries are a full-service international banking group managing more than 6.2bn Swiss francs for private and institutional clients worldwide.
Banque Heritage while global in scope, it manages its business cohesively across its three disciplines – Private Banking, Asset Management and Merchant Banking.
Founded in 1986 as the family office of the Esteve family, Banque Heritage is today a fully-regulated banking group headquartered in Geneva with an international franchise that currently spans Zurich, Lugano, Guernsey, Montevideo and Singapore.