The day after the Charlotte convention, back to reality with the jobs' market stats
Saturday, September 8th 2012 - 06:16 UTC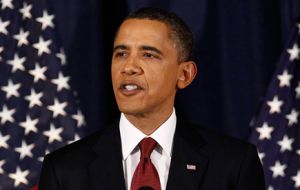 US President Barack Obama said on Friday the labour market is not hiring workers fast enough, following the release of a government report that showed weaker-than-expected employment figures.
"But that's not good enough. We know it's not good enough. We need to create more jobs faster. We need to fill the hole left by this recession faster" Obama said during a campaign rally in Portsmouth, New Hampshire.
Earlier in the day the Labour Department showed US jobs growth slowed sharply in August. Non-farm payrolls increased only 96,000 last month, while the unemployment rate dropped to 8.1% from 8.3% in July that was because so many Americans gave up the hunt for work.
The survey of households from which the jobless rate is derived showed a drop in employment. The lacklustre report keeps the pressure on Obama ahead of the November vote in which the health of the economy looms large.
US stock index futures pared their gains on the report, while Treasury debt prices turned positive. The dollar extended its losses versus the Euro.
Fed Chairman Ben Bernanke last week said the labour market's stagnation was a "grave concern", a comment that raised expectations for a further easing of monetary policy as soon as the central bank's meeting on Wednesday and Thursday.
The economy has experienced three years of growth since the 2007-09 recession but the expansion has been grudging and the jobless rate has held above 8% for more than three years -- the longest stretch since the Great Depression.
The jobless rate peaked at 10% in October 2009, but progress reducing it stalled this year, threatening Obama's bid for a second term. The US central bank has held interest rates close to zero for nearly four years and pumped about 2.3 trillion dollars into the economy through two bouts of bond buying.
The Friday jobs news follows on a very successful Democrat convention in Charlotte Thursday evening when Obama asked US citizens for patience in rebuilding the weak economy as he appealed for a new term in office and defiantly rejected Republican Mitt Romney's proposals to restore growth.
In accepting the presidential nomination at the Democratic National Convention, Obama gave a more down-to-earth follow-up to his 2008 "hope and change" message.
"America, I never said this journey would be easy, and I won't promise that now," he said. "Yes our path is harder -- but it leads to a better place."
Locked in a close fight with Romney, Obama faces the challenge of recapturing the magic of his historic campaign of four years ago and generating enthusiasm among voters who are weary of economic hardship and persistent high unemployment.
His nationally televised address was his best opportunity yet in this campaign to connect with millions of US citizens. Obama argued that the actions he has taken like the auto bailout are paying off and dismissed proposals by Romney to create jobs.