Falklands' oil offers an exit strategy from the dispute
Monday, September 10th 2012 - 00:47 UTC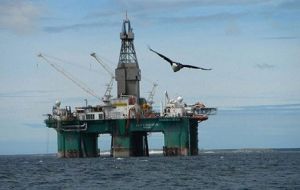 By Graham Bound - The discovery of a large field of natural gas beneath the seabed south of the Falklands received appropriate coverage in the UK press. Rockhopper Exploration's agreement with Premier Oil, which is likely to involve an investment by the latter of up to £750m, has also been noticed.
In fact, I am downplaying this. I think a wide band of people in the UK have been simply amazed at the news coming out of the Falklands. I believe most media reading people in this country are now convinced that the Islands will soon become a hugely rich oil producing territory.
The commonly held view here is that the war of 1982 was all about oil, which I am sure most Islanders and Argentines know not to be true. But it would be right to say that oil is changing the dispute. The key to this is a surprising degree of corporate confidence and commitment.
There is no sign at all that Argentine threats have succeeded even slightly in dissuading rich oil investors.
And London is to thank for that. Had Whitehall issued anything less than cast-iron and categorical expressions of support for the corporations which invest there, BA's threats might have succeeded.
A socio-economic impact study will soon tell us of the likely effect of an oil industry, and my guess is that both good and bad visions will come from it. But I don't think a study is necessary to confirm that the discoveries of oil and gas are anything other than good for the political future of the Falklands. As long as wealth and strategic importance are promised, then no government will take a weak and compromising position on sovereignty.
Within a few years Argentina will realize that crude aggression and sanctions are a waste of time and only make them look immature. They will then begin talking more pragmatically about cooperation, and secretly request face-saving concessions. My guess is that the Falklands and the British Governments will feel secure enough to welcome this and satisfy Argentina's need for an honorable exit from its hard-line strategy.
I would not like to guess what form a concession might take, but it is likely to be politically symbolic but economically significant.
In any case, it does seem to me that prosperity from oil and staunch support from Britain may enable us to close the book on tedious dispute that has stymied the Falklands and Argentina for more than six decades.(Penguin News)
By Graham Bound, London