Brazilian population increases "one Uruguay" in two years, and totals 194 million
Tuesday, September 11th 2012 - 03:57 UTC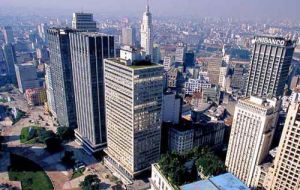 The Brazilian population amounts to 193,946,886 people, according to estimates from the Brazilian Institute of Geography and Statistics (IBGE), based on the 2010 Census, as released in Brasilia last week.
According to the estimate from the country's stats agency, and based on the population of 5.565 municipalities with reference date July first, 2012, this represents an increase of 3.191.087 inhabitants (equivalent approx to the population of Uruguay) over the 2010 Census when 190,732,694 people were registered living in Brazil.
São Paulo is still the most populous city, with 11.37 million inhabitants, followed by Rio de Janeiro (6.39 million), Salvador (2.71 million), Brasília (2.64 million) and Fortaleza (2.50 million). In relation to 2010, the list of the 15 most populous municipalities remained unchanged. Together, they account for 40.75 million inhabitants, which represent 21.02% of the population.
Capitals aside, the most populous municipalities are Guarulhos (1.24 million), Campinas (1.09 million), São Gonçalo (1.01 million), Duque de Caxias (867.06 thousand), Nova Iguaçu (801.74 thousand) and São Bernardo do Campo (774.88 thousand). The 15 most populous municipalities, with the exception of the capitals, account for 11.47 million inhabitants, representing 5.92% of the overall of Brazil's population
Borá (807 inhabitants), in São Paulo, and Serra da Saudade (807 inhabitants), in Minas Gerais, are tied up in the first position among the 15 least populous municipalities in 2012: they are the only municipalities with less than a thousand inhabitants. The 15 least populous municipalities in Brazil total 17,621 inhabitants, representing approximately 0.01% of the country's population
São Paulo comes as the most populous state of the union with 41.90 million inhabitants (21.60% of the Brazilian population), followed by Minas Gerais, with 19.85 million (10.23%), and Rio de Janeiro, with 16.23 million (8.36%). The state of Roraima is the least populous, with 469.52 thousand inhabitants (0.24%), followed by Amapá, with 698.60 thousand (0.36%), and Acre, with 758.78 thousand (0.39%).
The metropolitan region (MR) of São Paulo is still the most populous one, with 19.95 million inhabitants, followed by the MR of Rio de Janeiro (11.84 million), the RM of Belo Horizonte (5.50 million), the RM of Porto Alegre (3.99 million) and the Integrated Region of Economic Development (RIDE) and Federal District surroundings (3.83 million). The 15 most populous metropolitan regions account for 72.26 million inhabitants in 2012 (37.26% of the total population).