Ex Argentine vice-president to head observers mission to Venezuela elections
Tuesday, September 11th 2012 - 05:58 UTC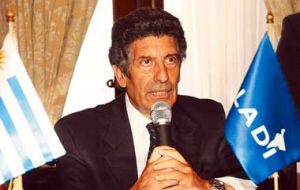 Former Argentine Vice-president Carlos 'Chacho' Alvarez was chosen as head of the Electoral Observers mission that Unasur will be sending to Venezuela for the coming presidential elections on October 7.
Alvarez is currently secretary general of the Latinamerican integration association, Aladi, with seat in Montevideo, and which on Monday made public his nomination to head the delegation.
"This is the first mission of observers that Unasur will be sending and is one of the different councils created by the organization, the Electoral Council, precisely to monitor electoral processes and which is currently headed by Peru on a temporary basis", said Aladi in an official release.

The mission will also include four members from each of the countries that make up Unasur.
Following the Venezuelan election, the delegation "can make recommendations which will then be presented to the Venezuelan authorities as well as to the other Unasur members", added the release.
Alvarez as head of the mission will be making a first visit on 17 September to Lima to talk with Peruvian Foreign minister Rafael Roncagliolo and then visit Caracas to become acquainted with the electoral process and meet with the president of the country's Electoral Council, Tibisay Lucena Ramírez.