Falklands' companies readying to provide support services to oil industry
Tuesday, September 11th 2012 - 06:30 UTC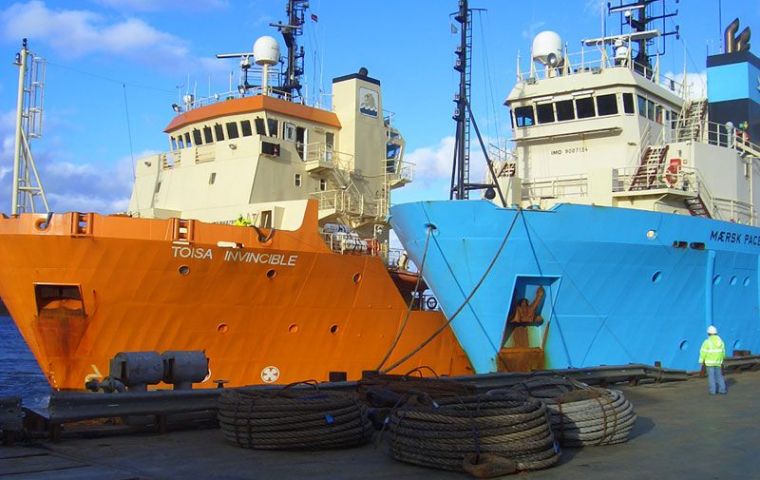 Falkland Islands' companies are, "stepping up to the plate," in providing support services to the oil industry; and their investment in increased work forces, facilities and equipment is already paying dividends.
One company Byron McKay Port Services has already expended over £8 million capital asset provisioning, in addition to an investment of about £400,000 in employee training costs over three years.
The joint venture company between Neil McKay Ltd and Byron Marine Ltd began planning for service provision to the oil industry several years ago.
Director Lewis Clifton said: "Evidence of commitment at the local level can be seen either in terms of increased capital assets (machinery, plant, cranes, fork lifts, heavy goods trucks, and supply base facilities) warehouses, hard standing, laydown and offices, and significant increases in numbers of employees to make the assets work and support the offshore supply chain. Importantly, employees must not only be multi-talented, but must be certificated to operate in the logistics supply chain to UK North Sea standards."
Mr Clifton said the company had already benefited from the growth of the oil industry, "but was only able to do so by stepping up to the plate to win contracts and deliver services."
Transportation company Falkland Islands Tours and Travel (FITT) has also increased its team in direct response to contracts that have been negotiated and held for the duration of the exploration programme with AGR, Ocean Rig and CHC.
Managing Director Andrea Clausen said the company now provided logistics personnel, along with existing transport services. FITT would be seeking to provide similar services, "and hopefully expand into some new, as the exploration programme evolves into exploitation," she explained.
Others have benefited from FITT's success with the company sub-contracting through full-time and casual employees.
Tim Miller of Stanley Growers told Penguin News that although they had not yet increased staff levels he anticipated a larger work force by 2014.
Stanley Growers is supplying fresh produce direct to the offshore industry and through local agents. During the RKH/Desire drilling program with additional seismic survey vessels the company's sales increased by about 10% although it is currently slightly less due to there being no seismic vessels conducting work.
Mr Miller said in 2014 when more rigs would be present the additional personnel in the Islands would need more fresh food.
In 2011-2012 the company invested approximately £20,000 in the purchase of two large poly-tunnels and a further two giant tunnels are planned for 2013. Increased imported produce is also planned, but this will be subject to freighting options.
Sulivan Shipping Managing Director John Pollard said his company has been working with the oil industry in a number of areas, "in the marine field as owners-agents for the UOS vessels that supported the Ocean Guardian rig operations and in aviation as ground-handlers at Mount Pleasant for the Hifly charter."
He said the latter required Sulivan Shipping to bring in a specialist piece of equipment for loading and unloading aircraft, "which we have also put to use to assist the MOD with their airbridge operations on occasions."
He said should the frequency of international flights increase, and the companies attendance at Mount Pleasant also increase then that could well create more full and part time job opportunities.
Mr Pollard said the company would, "watch developments with interest and ensure that we are ready for any new opportunities."
In the hospitality sector, The Waterfront Hotel's Alex Olmedo has also increased staff levels, products and services due to the increased demand from oil companies and other tourism sectors.
He said: "We provide accommodation and meals to our residents and the corporate market in particular oil companies for private dinner parties".
Mr Olmedo said confirmed bookings for the tourist season were much higher than in previous years: "Although we are not the first choice for accommodation for the oil companies we get a lot of the bookings which other establishments cannot accommodate."
So optimistic is Mr Olmedo about the future, he is planning to operate new B&B accommodation 'The Paddock', as well as refurbishing the hotel's dining room, kitchen and bedrooms and extending the conservatory: "We hope to be able to be more attractive to the oil industry with our enhanced products and services."
Stanley Services' General Manager Robert Rowlands said thanks to Stanley Services' past investment, the company had been able to provide many of the services required by the oil industry: "The company continues to look to growth as can be seen by the work already proceeding on current projects and there are plans for further investment and expansion to meet future needs," he said.
Cable & Wireless is one more company that appreciates the economic growth generated by the oil industry, Chief Executive Justin McPhee said: "We have provided oil operators with some specialised services during the exploration phase and would hope to expand this as the industry develops in the Islands."
He said the significant investments the company had made in new equipment and network infrastructure in recent years means, "we are well placed to support the requirements of the oil industry as it develops. Any activity that increases economic activity helps address the challenges we have due to economy of scale will benefit all customers in the longer term."
As has already been reported in Penguin News, the Falkland Islands Company is also anticipating significant business opportunities in relation to the oil industry including utilising existing FIC freehold land in Stanley for warehouse and storage yards. They also hope to provide offices for the industry as well as purpose built accommodation units for long stay staff. In a Joint venture with Trant Construction they aim to bid for government and private sector construction and engineering contracts. (PN).-