Falklands' Desire confirms exploration potential and is looking for farm-in partner
Tuesday, September 18th 2012 - 07:21 UTC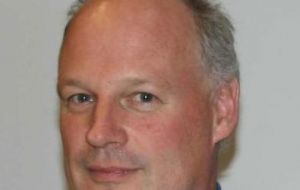 Falkland Islands explorer Desire Petroleum said its half-year to end-June period losses decreased from 39.3 million dollars in the previous period to just 2m, due to a fall in exploration and evaluation expenses. It also announced that it was looking for a farm-in partner for the North Falkland basin, where the company is focused.
The half year report also indicated that the Competent Person's Report on the 14/15-4a well results give net to Desire contingent resources of 85 MMstb oil and 178 bcf, while an update on the Elaine and Isobel prospects with estimated best case un-risked prospective recoverable oil resources net to Desire of 312 MMstb with a geological chance or success of 30%.
To this must be added that Rockhopper Exploration's CPR indicates that Desire has an estimated 4% of the Sea Lion discovery, the most promising so far offshore Falklands.

The 2011 exploration and evaluation expense of 39.7m (restated) largely consisted of unsuccessful Ninky well costs and 3D seismic expenditure incurred during that period. These costs have reduced to 0.7m in 2012 following the completion of drilling and seismic activities.
Net Administrative expenses for the period increased from 532,000 to 831,000 dollars. This was entirely due to a reduction in the allocation to joint venture licences, with gross administrative expenses in line with the previous period.
The group capitalized 0.7m of exploration and evaluation expenditure ("E&E") in the period. The only E&E assets carried forward at the balance sheet date are those in respect of the farm in area PL004b, where the Group holds contingent hydrocarbon reserves. All other E&E costs have been expensed in the Income Statement, in accordance with the Group's successful efforts accounting policy.
The Group's cash resources at the period end amounted to 12.7 million, plus an additional 1.8 million held as restricted cash in escrow accounts with AGR to meet liabilities within creditors.
Due to the Group's available cash resources at the period end, the Directors have a reasonable expectation that the Group have adequate resources to continue in operational existence for the foreseeable future.
Stephen Phipps, Chairman, said: "Recent developments have highlighted the exciting potential of the North Falkland Basin and it is Desire's intention to seek a high quality farm in partner to help us capitalize on this potential, with our share in recent discoveries, material positions in well defined prospects and the exploration potential across our remaining acreage".