Merkel honours her mentor and Euro architect, Kohl to help discipline the party
Thursday, September 20th 2012 - 23:34 UTC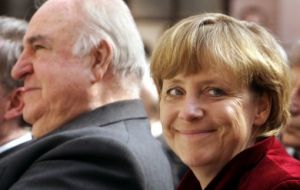 Angela Merkel is seeking help from her estranged, former mentor Helmut Kohl, architect of the Euro, to restore voter faith in the European project before next year's election.
Realizing her own future is tied to that of the EU, Merkel has in the last month softened her rhetoric towards the most indebted Euro zone states. Next week she will make a rare joint appearance with former Christian Democrat (CDU) chancellor Kohl.
The German leader's tough approach to the Euro debt crisis has boosted her popularity in the last two years and polls show she is in a strong position to win the September 2013 vote.
But she needs to ensure traditional conservatives in her own party maintain discipline in the run-up to the vote after some were angered by her defence of European Central Bank President Mario Draghi's bond-buying plan for stricken euro states - a scheme the German Bundesbank opposes.
Merkel must also convince the broader electorate of the need for closer EU integration, seen as crucial to the currency's long-term survival. A poll this week showed almost two thirds of Germans would prefer to live without the Euro and 49% without the EU.
Getting the 82-year-old Kohl, Germany's longest serving chancellor, on board is something of a coup for Merkel.
The statesman is known to bear a grudge against Merkel for turning on him in 1999 over a party funding scandal that tainted his image, and has voiced veiled criticism of her handling of the crisis.
"A reconciliation with Kohl has important symbolic value, he still commands wide respect especially on the issue of Europe" said Klaus-Peter Schoeppner, head of the Emnid polling group.
Schoeppner sees the joint appearance, to mark 30 years since Kohl became chancellor, as part of a shift in Merkel's strategy to broaden her message and sell the benefits of Europe.
Kohl, frail and wheelchair-bound, is seen as the architect of German reunification and was a driving force, along with French President Francois Mitterrand, behind the creation of the euro.
He plucked Merkel out of obscurity in the former communist East after the fall of the Berlin Wall and she quickly became a protégée. Kohl brought her into the first post-reunification cabinet, referring to her as his "Maedchen", or girl.
But Kohl, who grew up in World War Two and religiously stresses that the Euro holds the key to ensuring lasting peace in Europe, has been unimpressed with her crisis management.
Last year he criticized Merkel's foreign and European policy, saying it lacked direction and that she was making Germany an undependable partner. According to Der Spiegel weekly, Kohl complained to a friend: "She is destroying my Europe" although he has since denied saying that.
Not least to protect his euro legacy, Kohl will let bygones be bygones on September 27 and sit alongside Merkel at Berlin's Historical Museum with former European Commission President Jacques Delors to hear speeches honouring him.
In the 2005 photo the former Chancellor wih his protegée