Falklands to introduce minimum wage; document recommends £ 5, 50 the hour
Friday, September 21st 2012 - 23:53 UTC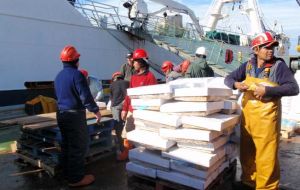 Over the years there has been talk of implementing a minimum wage in the Falkland Islands, a significant amount of work has been undertaken on the issue and a minimum wage should be in place by early 2013.
An Executive Council (ExCo) paper by the Falkland Islands Government (FIG) Policy Department has been written to "provide detailed policy instructions regarding the implementation of a Minimum Wage in the Falkland Islands". The paper recommends that the minimum wage be set at £5.50 per hour for adults (workers 18 years and over) and £3.10 for young people (workers aged 16 and 17). The Government's Attorney General's Chambers will draft the legislation for the National Minimum Wage.
A significant number of people will be entitled to receive a minimum wage under the new legislation including: employees of Ministry of Defense contractors; part-time, agency, casual and temporary workers; seafarers and offshore workers (not including workers within the fishing industry; disabled workers; workers temporarily working outside the Falkland Islands.
Particular categories of workers would be excluded from the entitlement of a minimum wage, including: self-employed individuals; company directors; trainees on some Government-funded training courses; members of the British Armed Forces; reservists within the Falkland Islands Defense Force; prisoners and those undertaking Community Service Orders; voluntary workers.
The paper recommends that a Minimum Wage Review Group undertake an annual review of the minimum wage to "examine its impact, its future level, definition and possible exceptions".
Recommendations within the paper suggest that the most practical and "future proofed" way to set the Minimum Wage would be to do it so that it is at a "level that ensures that no worker is forced to live in poverty". If based upon the UK methods of defining poverty, 60% of median income, the Falklands poverty threshold would be £10,500 per annum. This would equate to a minimum wage of £5.05 per hour.
The paper acknowledges this "somewhat crude measure" but suggests that a more accurate alternative method would require a vast amount of data to be gathered which would significantly delay the implementation of the minimum wage.
The Minimum Wage for Young People is calculated at 61.3% of the adult minimum wage, which is in line with the UK's approach to calculating the rate, therefore, it looks set to be £3.10 per hour for young workers.
The lowest rate of pay within FIG is £5.70 per hour and as such no FIG employee's wage will be affected by the implementation of a minimum wage. The policy unit has analyzed the 2012 Census which indicates that at present 91 people earn less than the proposed minimum wage. Of these 91 individuals: 26 work in agriculture, 15 in hospitality and 14 in wholesale/retail.
Should the paper be approved by the Legislative Assembly then the minimum wage legislation could come into force three months later.
By Roxanne King – SeAledPR – Stanley