Mantega says US and Japan have again ignited the "currency war" and Brazil will defend itself
Friday, September 21st 2012 - 16:45 UTC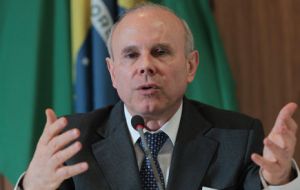 Brazil threatened on Friday a further clampdown on speculative foreign capital, firing a warning shot in the "currency war" Finance minister Guido Mantega blames on money-printing by Western central banks.
Mantega said Brazil would not allow its currency to strengthen too much and was prepared to take all steps to prevent this, including "those we adopted in the past".
"If necessary... we have (the option) of short-term capital taxes," he told reporters on the sidelines of an Economist conference in London.
The Brazilian government has introduced a number of measures since 2009 intended to curb excess inflows of foreign investors' dollars but has recently reduced their scope.
Brazil shocked investors in October of that year by taxing some categories of foreign capital flowing into stocks and bonds. It said at the time that some of the flows constituted hot money and were harming the economy.
Mantega has become one of the fiercest critics of the asset buying programs that Western central banks have been using to shore up their economies, accusing them of in effect devaluing their currencies to boost competitiveness.
Some of the extra funds generated by quantitative easing (QE) have in the past found its way into emerging markets, lured by higher interest rates and yields, driving gains in currencies including Brazil's Real.
Mantega said the US Federal Reserve's decision this month to embark on a third round of bond-buying, followed by a similar move by Japan, would revive global "currency wars" by forcing other countries to act to protect their own economies.
"(The United States and Japan) will be stimulating the currency wars as (they) will lead all countries also to pursue these wars" Mantega warned. "It's natural other countries will defend themselves".
Mantega added that there would be not let-up in the Brazilian Central bank interventions in currency markets to hold the Real near the 2-per-dollar level via billions of dollars in reverse swaps. It has also cut interest rates to a record low of 7.5%.
"The central bank will buy more reserves, we already have a very high level of reserves and we will purchase more if there is a strong offer of dollars in the Brazilian economy," he said. "We will do more reverse-swapping...we won't allow our economy to become uncompetitive."