Ecuador suggests transferring Assange to its embassy in Sweden so he can be questioned
Saturday, September 22nd 2012 - 05:24 UTC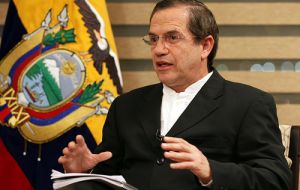 Ecuador proposed on Friday transferring Wikileaks founder Julian Assange from its embassy in London where he has taken refuge to that in Sweden where he is a suspect of sex related crimes. However this depends on Britain and there has been no official reaction to the proposal.
Foreign minister Ricardo Patiño told reporters that there are several possibilities to resolve the standoff with Britain over Assange, including "that his statement be taken in our embassy in London or that Ecuador get authorization to transfer him, if necessary, to our embassy in Sweden so that the case can proceed there with the protection of Ecuador and meeting the needs of Swedish justice".
Assange has been holed up in Ecuador's embassy in London since June 19, seeking to avoid extradition to Sweden for questioning over sex crimes allegations. Assange claims the Swedish sex case is part of plot to make him stand trial in the United States over his work with Wikileaks, which has published large troves of secret US documents. Sweden and Washington reject the claim.
Ecuador granted the Wikileaks founder political asylum on Aug. 15, but British authorities have repeatedly warned they will arrest him if he steps foot outside the diplomatic mission.
Patiño said he was hopeful a negotiated solution could be found for the case, although added that Ecuador does not discard appealing to international courts if discussions with London do not prosper.
Only last week Ecuadorean president Rafael Correa said that Patiño would be attending the UN General Assembly and "expects to meet with Foreign Secretary William Hague and continue the dialogue on the Assange case".
Correa said that in his opinion the whole issue could be solved once Sweden gives guarantees that Assange won't be handed to the US or that the Swedish prosecution questions the Australian at the embassy in London, "it's perfectly feasible, and we can then overcome the dispute; why doesn't the Swedish prosecutor want to do so, who knows".
Anyhow Correa said Ecuador "has never closed the doors to dialogue, we will continue to dialogue, but what we will never do is negotiate human rights, they are nonnegotiable". The Ecuadorean president confirmed he will not be attending the UN assembly.