Assange praises Argentina for facing UK, but criticizes the data-gathering system
Monday, September 24th 2012 - 02:39 UTC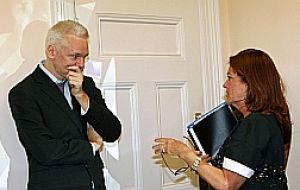 Wikileaks founder Julian Assange currently holed in the Ecuadorean embassy in London said that "Argentina's support is very important, because Argentina has experience with facing the UK".
The hacker, who was granted political asylum from Ecuador over three months ago, told reporters that "Argentina has been very supportive and Ambassador in London Alicia Castro came to show me their support."
Likewise, Assange stressed: "I appreciate Argentina's independence on the asylum issue", who was interviewed by Buenos Aires daily Pagina 12.
Asked about the current Argentine government, Assange was neutral: "I'm aware of some things that are happening in Argentina with Cristina (Fernandez) and the Argentine government, but I do not have a particular opinion about the country".
However, the Australian hacker slid criticisms expressed in Wikileaks about the new electronic passport presented by the Argentine Government.
"There's one thing we at Wikileaks we have received complaints about, and it has to do with the biometric program for printing documents implemented by the Argentine government", and explained, "Since it represents a data transfer from individuals to an organization that is much more powerful than them, and technology is rarely something neutral".
In related news the British Foreign Office was tightlipped over a proposal from Ecuador that Australian be transferred from London to Sweden but stay under Quito's protection.
Sweden's foreign ministry for its part said Stockholm had not received any approach from Quito and would not speculate on the proposal.
Ecuador's Foreign Minister Ricardo Patiño said he was weighing such a transfer as a possible alternative for Assange to "remain under our protection while also satisfying the demands of the Swedish justice system."
Patiño hinted at "new" developments in the Swedish case, saying "several elements of proof have been dismissed," though he declined to provide further details.
In a sign that diplomatic moves are afoot in the Assange case, Patiño said he planned to discuss the issue with his British counterpart William Hague on the sidelines of the UN General Assembly in New York on Thursday.
In London, the Foreign Office refused to be drawn on the Ecuadorian proposal.
A spokesman said: "We've made our position very clear on Mr Assange, mainly that he has exhausted the option of appeal and we are under a binding obligation to extradite him to Sweden and we have to carry out this obligation and we fully intend to do so."
Swedish foreign ministry spokeswoman Linn Duvhammar said that "we cannot speculate on what such a solution might be like," adding, "We have received no request."
The lawyer for Assange's alleged victims, Claes Borgstroem, dismissed the idea as "absurd" adding "there is no reason to treat Assange differently from other people in this situation" he told Swedish news agency.