Mercosur 'losing credibility' before Europe because of Paraguay/Venezuela controversy
Wednesday, September 26th 2012 - 03:05 UTC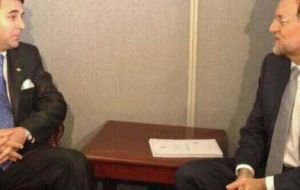 Mercosur is losing credibility before European countries following the recent suspension of Paraguay from the group and the later incorporation of Venezuela as full member said Paraguayan president Federico Franco who on Tuesday met with Spanish Prime Minister Mariano Rajoy.
"Having suspended Paraguay until April next year to allow the inclusion of Venezuela into the (Mercosur) group has meant a loss of credibility before the European countries, since "political elements" prevailed over the legal aspects of the transaction", said Franco who is New York participating of the UN 67th General Assembly.
Rajoy and Franco met at the UN building as part of the ongoing negotiations of the coming Ibero-American summit to be hosted next November by Spain in Cadiz, and which several South American countries have said they would not be attending if the representative from "suspended" Paraguay turns up.
Several ministers in previous meetings and Rajoy in New York told Franco that they needed the summit to be a success, given the situation Spain is facing, and have not extended a formal invitation to Paraguay. Spain must continue to be seen as the natural bridge with Latin America and that influence can't be imperilled by a regional dispute which could mean the absence of several leaders from Mercosur and Unasur.
According to the Spanish government news agency EFE, Rajoy told President Franco he was confident that the political renovation process in Paraguay would be a success for democracy and the Paraguayan people.
President Franco briefed Rajoy on the process that led to the removal of Fernando Lugo by the Paraguayan Senate following impeachment last June and which was interpreted by Mercosur and Unasur members as a 'rupture' of democratic order. Lugo was replaced by then Vice President Franco after the Senate found him negligent in the exercise of his executive responsibilities.
President Franco also told Rajoy that he shouldn't worry because he would not be attending the summit next November in Cadiz, a decision he had announced previous to his trip to New York and when informed by Spanish diplomacy of the dilemma the administration of President Rajoy faced.
In related news Brazilian president Dilma Rousseff made a brief mention to the Paraguayan case, and its suspension, without mentioning the country saying that the concept of integration ins South America is closely aligned with democracy.
"Brazil is intent on working with its neighbours in implementing respect for democracy, peace and prosperity. Our region is a good example for the world of how to overcome authoritarian regimes", said President Rousseff.
"For us democracy is an asset immune to hold-ups, we have been firm in Unasur and in Mercosur to impede loosing ground because we consider integration and democracy inseparable principles".
The Brazilian president also underlined that the Latinamerican region is free of arms of massive destruction and is one of the world's main producers of food.