Argentina will adopt tough measures to guard nine years of economic achievements
Friday, September 28th 2012 - 06:12 UTC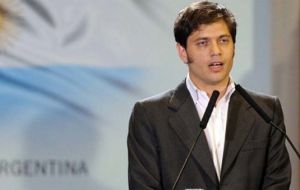 Argentina has "stronger financial support than other countries" and will adopt tough policies to guard the nine years of economic achievements, said Economy Deputy Finance Minister Axel Kicillof addressing the Lower House Budget and Finance Committee to discuss the main guidelines for next year's budget.
However despite having stressed Argentina's resilience to the international economic crisis Kiciloff made an appeal for the Congress "to take into consideration the seriousness of the world crisis situation".
The Deputy Minister who was accompanied by Economy Secretary Juan Carlos Pezoa and Finance Secretary Adrián Cosentino, also stressed the country was prepared to go to great lengths to shield itself from the international recession.
"Our country will adopt tough policies to guard the nine years of economical achievements we have had" Kiciloff said before the Committee.
The budget originally presented by Economy minister Hernan Lorenzino last week unveiled some gross facts of the draft bill such as a forecasted growth of 4.4% for next year, as well an estimated annual inflation rate of 10.8%, a US dollar exchange rate around 5.10 Pesos, and a country's trade surplus of 13.32 billion dollars.
Likewise, the Minister had confirmed the continuity of the government's policy of meeting all debt payments by using the foreign currency reserves of the Central Bank.
Precisely on this point lawmaker Fernando Yarade, deputy chairman of the Lower House Finance Committee anticipated that Argentina will have to tap fewer central bank reserves in 2013 than it did this year because of declining obligations.
"The policy to keep cutting the country's debt will continue," Yarade said. "It's very probable that there will be an additional inflow of about 13 billion dollars in export revenue this year that will boost central bank reserves".
President Cristina Fernandez has appealed to central bank reserves to pay debt since 2010 as Argentina remains blocked from international credit markets following its default on 95bn of sovereign bonds in late 2001. Reserves are currently in the range of 45.3bn down from 47.8bn on April and a record 52.6bn in January last year.
The Argentine central bank transferred about 6.6bn from its savings to the treasury to make payments in 2010, 7.5bn in 2011 and is scheduled to send 5.7bn in 2012.
The 2013 budget proposal forecasts economic expansion of 4.4%, double the 2.2% growth that the World Bank predicted for Argentina in 2012. But Yarade insists "the economy will have better international conditions than this year and that will have a positive impact; the outlook is good taking in mind that the price of soybeans, wheat and corn are higher and that a better harvest is expected."
Argentina's foreign debt climbed to 141.997 million dollars at the end of June according to the country's stats office Indec. This represents an increase of 311 million dollars over the end of March.