PM Cameron admits disagreements with Brazil on some foreign policy issues
Saturday, September 29th 2012 - 08:38 UTC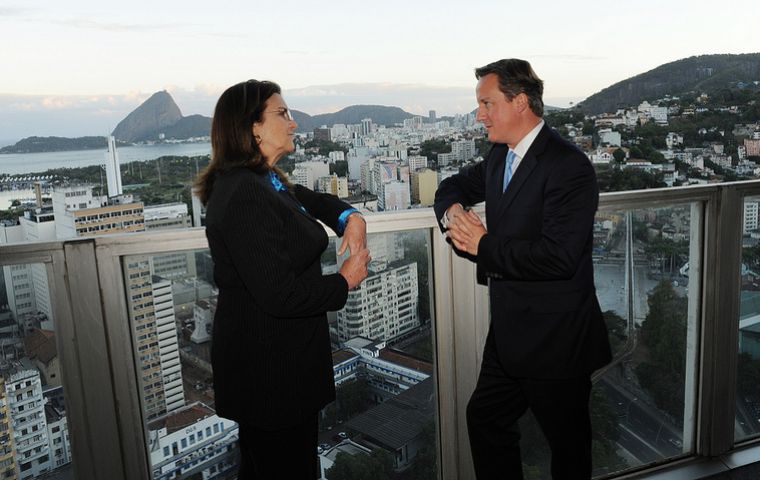 British Prime Minister David Cameron admitted that UK and Brazil did not agree in all foreign policy issues, but welcomed the existence of an open debate between the two countries. PM Cameron ended on Friday a two-day visit to Latinamerica's largest economy to promote trade and investment.
"We didn't agree in all issues, but we had good and lively debates on foreign policy issues", underlined PM Cameron after an hour long meeting with President Dilma Rousseff.
Apparently the main discrepancies refer to the current Syrian crisis and the Iran conflict regarding Teheran regime' development of nuclear energy and its refusal of UN inspectors to check that enriched uranium will not be used for the manufacture of mass destruction weapons.
"I reiterated to the Prime Minister Brazil's conviction that there is no military solution for the Syrian crisis. A political process led by the Syrians is the best way to overcome the conflict", said President Rousseff.
The Brazilian leader also expressed concern about the growing rhetoric in support of a unilateral military action in Iran: "Any initiative of this kind would represent a violation of the UN charter with most serious consequences for the Middle East".
On both issues the UK is a strong ally of Washington and other Western powers such as France.
The two leaders also showed different points of view, but very diplomatically, regarding how to overcome the current global financial crisis and criticism from developed countries to Brazil's policies of defending its foreign trade and domestic market.
"Brazil is doing its part" in the recovery of the global economy, said President Dilma Rousseff next to PM Cameron who in an interview before arriving in Sao Paulo was critical of the country's policy to restrict imports with the purpose of supporting local industry.
"In the midst of the crisis, we have increased our imports; Brazil is doing its part when developing growth incentives to create jobs and domestic demand", said President Rousseff. "Despite the global crisis our flows of trade and investment have registered sustained growth".
In an interview with Folha de Sao Paulo before arriving to Brazil PM Cameron said that "trying to isolate and protect industry from competition may benefit the local industry, but it has long-term costs and will block the development of a truly competitive and innovative industrial base".
The Brazilian position on the issue is that faced with the "monetary tsunami" from developed countries when they pump money to their economies to overcome the crisis, developing countries need to defend their foreign trade and domestic markets.
"Central banks from developed countries persist with an expansionist monetary policy which misbalances exchange rates, and as a consequence emerging countries lose markets because of the artificial revaluation of their currencies which only further aggravates the global recessive scenario", said Rousseff earlier in the week before the UN general assembly.
PM Cameron ended his two-day visit in Brasilia which started Thursday in Sao Paulo and continued in Rio do Janeiro.