Despite Dilma, Lula and Cardoso, Sao Paulo city could end with an outsider as mayor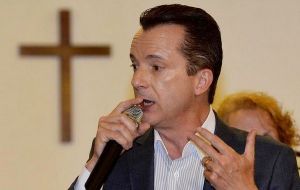 Brazilian president Dilma Rousseff joined her mentor Lula da Silva in a political rally in support of the Workers Party candidate for mayor of the city of Sao Paulo in next Sunday's municipal elections when 140 million Brazilians are registered to vote.
The president was present at the election campaign event in support of candidate Fernando Haddad, a former Education minister, and justified her attendance despite strong criticisms from the opposition saying that "there is no way you can rule Brazil without involvement in Sao Paulo politics…"
In a brief speech Rousseff strongly defended the legacy of Lula da Silva (2003/2010), her political mentor and of whom she was several times minister, and who has been actively participating in support of the ruling Workers party municipal candidates.
"Lula left me a blessed legacy. There are a lot of people trying to change that situation but nobody can change the fact he was responsible for the best government we've ever had in Brazil"…underlined President Rousseff to the followers of Haddad at a rally to the east of Sao Paulo.
The Brazilian president had so far not participated in any municipal election campaign.
With 11 million residents the city of Sao Paulo is the capital of Brazil's richest state, the powerhouse of Latinamerica's largest economy which recently became the sixth most important world economy overtaking the UK.
Former minister Haddad is trying to become mayor of a city where the influence of former president Fernando Henrique Cardoso and who is also head of the main opposition party, PSDB is most significant.
The PSDB candidate is Jose Serra, a former governor of the state of Sao Paulo who has strongly criticized President Rousseff for her involvement in the campaign and Lula da Silva for the 'trial of the century' which has in the culprits' box some of his former closest aides. "Lula was and is the godfather of that bunch of crooks", bangs Serra.
However according to the latest public opinion poll from Datafolha, Haddad has a vote intention of 18%; Serra, 22% and the leading candidate Celso Russomanno, a former television anchor-man and strong defender of consumer rights supported by an evangelical church, 30%.
Next Sunday 140 million Brazilians will be electing mayors and council members of over 5.000 town-halls. The run-off takes place at the end of the month. Although municipal the political map that emerges from the election should give a good idea of presidential prospects for 2014, when Lula da Silva could again run if President Rousseff does not bid for re-election.