Fearing a collapse of their economy, Cubans overwhelmingly would vote for Chavez
Thursday, October 4th 2012 - 07:18 UTC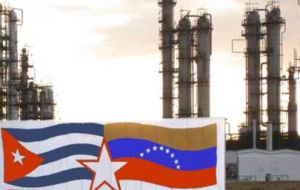 Many Cubans are anxious about the results of Venezuela' presidential election next Sunday and are praying for an Hugo Chavez victory since they are fearful of another collapse of the island's economy if the winner is opposition candidate Henrique Capriles.
Venezuela in a decade became the main political ally and economic and trade partner of the island ruled by the Castro family, which was going through one of its worst moments following the downfall of the Soviet empire in 1991.
Even when all the Cuban media, (under government control) anticipate a ballot victory for Chavez as inevitable, many fear that in the event of a defeat the country could be forced again to a similar crisis period as suffered with the disintegration of the USSR.
"The moribund Cuban economy is holding together because of Venezuelan aid; if the umbilical chord is cut off, this would be a disaster" said dissident economist and former political prisoner Oscar Espinosa Chepe.
"The Cuban population to a great percentage is concerned about this", added Espinosa Chepe in reference to a possible victory of Capriles that has promised to cut all foreign aid and concentrate in supporting Venezuela's millions of needy.
With the support from Chavez, Cuba again has access to oil under preferential terms. Venezuela supplies Havana with 100.00 bpd of oil under soft payment conditions, said Jorge Piñon, from the University of Miami Centre for Hemispheric Policy.
"Cuba currently consumers 147.000 bpd of oil and home production is 50.000 bpd which means the 100.000 bpd deficit is supplied by Venezuela", pointed out Piñón. The bilateral trade balance reached 6 billion dollars in 2010 with Venezuelan sales totalling 4.3bn and Cuba's 1.7bn.
The two countries also retain an active cooperation which this year involved 47 projects valued at 1.6bn dollars in education, farming, health and sports, plus having several bi-national corporations.
Cuba also benefited from sending almost 40.000 professionals to Venezuela, mostly doctors to work in the poor urban and rural neighbourhoods and to advise different sectors and offices of the Venezuelan bureaucracy.
This services supply is precisely Cuba's main source of income and provides annually, on a global basis, 6bn dollars, above tourism with 2bn and nickel exports of 1.1bn according to the official stats.
All of this obviously would be at risk if Capriles is finally elected the next president, so no matter how much they love or hate him, "most Cubans are longing and praying for Hugo Chavez victory on 7 October" underlines Espinosa Chepe.