Latam expected to expand 3% more in line with global trends, says World Bank
Thursday, October 4th 2012 - 19:40 UTC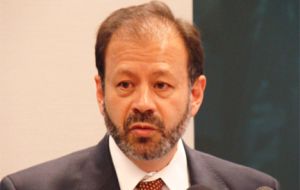 Latin America and the Caribbean region (LAC) will be growing at 3%, more in line with global trends but even with GDP beginning to slow, the region's unemployment rate stood at 6.5%, approaching historic lows and well below its peak of 11% a decade ago, according to the latest semi-annual report "The Labour Market Story Behind Latin America's Transformation," by the World Bank's Office of the Chief Economist for the region.
Current consensus forecasts envisage that Latin America's GDP will grow at 3.8 to 4% in 2013, after having expanded 6% in 2010 and 4% in 2011. This new phase reflects a significant slowdown in two of the largest economies in the region. Argentina and Brazil are projected to grow in 2012 by 2% or less.
Still, many countries in the region are projected to grow above the regional average, including Bolivia, Colombia, Costa Rica, Chile, Dominican Republic, Ecuador, Mexico (whose recovery lagged behind others in LAC but is now gaining momentum), Uruguay and Venezuela. Panama and Peru continue to be the top growth performers in the region in 2012, with Asia-like growth rates of 8% and 6% respectively.
"Global and internal factors are behind the region's slowdown. On the one end, you find weaker economic activity in important growth poles, such as Europe and China, which has a negative impact in the demand for LAC exports. On the other, many middle income countries appear to have been running at their full growth capacity in 2010-2011," said World Bank's Chief Economist for the region, Augusto de la Torre.
However "to move forward and sustain higher growth levels, countries in Latin America need to address their low productivity."