Youth unemployment in 17 of the G20 countries stands at over 16%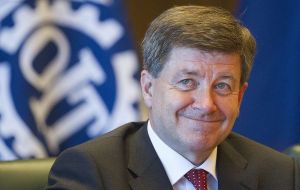 The youth jobs situation remains critical, with 17.7 million young people, or just over 16%, unemployed in 17 of the G20 countries for which data is available, the International Labour Organization (ILO) has said.
Over the last 12 months the youth unemployment rate has increased in 10 countries whereas the employment to working age population has declined in 12 countries, according to an ILO document presented at a G20 Task Force on Employment meeting.
According to the latest available G 20 data youth unemployment in Australia, Germany, Japan, Korea and Mexico stood at 8% to 11%; In Argentina, Brazil, Canada, Russia, Turkey and the US, 15% to 18%; In France, Indonesia and the UK, 21% to 23% and 35% to 52% in Italy, South Africa and Spain. (The stats do not include China, India or Saudi Arabia).
"Let's be realistic: We know that the perspectives out there on the labour market are anything but bright," ILO Director-General, Guy Ryder, told participants.
"We know that when the general employment figures are bad, the situation of youth employment is even worse," he added. "We have to look for new approaches."
The task group expressed commitment to promoting and strengthening apprenticeships as a proven means of transitioning soundly between learning and work.
The General Secretary of the International Trade Union Confederation (ITUC), Sharan Burrow, and the Secretary-General of the International Organization of Employers (IOE), Brent Wilton, both expressed strong support for the goal of promoting apprenticeships and said they planned to lead national consultations.
The share of young women and men in apprenticeships varies greatly from country to country. Germany leads in this field, with close to half of all 16-24 year olds in apprenticeships, while other countries achieve levels of below 20%, according to another ILO document presented at the meeting: Overview of Apprenticeship of Systems and Issues".
"The ILO has decided to make youth employment a key part of its work," Ryder said, pointing to a Call for Action launched at the International Labour Conference in June 2012.