Cuban prominent blogger detained in Cuba ahead of trial involving Spanish politician
Friday, October 5th 2012 - 20:38 UTC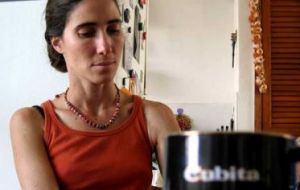 Cuba was reported to have arrested prominent blogger Yoani Sanchez Friday in a crackdown on dissidents as the vehicular manslaughter trial of a Spanish politician got under way here. Angel Carromero, 27 who runs the youth wing of Spain's ruling Popular Party went on trial for the death of a prominent dissident, Oswaldo Paya, in a car crash near this town in eastern Cuba.
Authorities allege that the Spaniard was driving above the speed limit when his car hit an unpaved section of road outside Bayamo, causing him to lose control of the vehicle and crash into a tree on July 22.
Paya, 60, a staunch opponent of the Castro brothers' regime and a 2002 recipient of Europe's Sakharov prize for defence of human rights, was killed along with another Cuban dissident riding in the rented car. Carromero, who was behind the wheel, and a Swedish activist were injured in the accident.
Spanish press reports have said that the Cuban government is seeking a seven-year prison sentence against Carromero for "traffic violations resulting in death" -- which carries a maximum sentence of 10 ten years in prison. Authorities said the trial was expected to last just one day.
Carromero arrived at court under police escort a half-hour before the start of the proceedings.
"I'm hoping that justice will be done, but we'll see what happens," said the Spaniard, who was dressed in a white shirt and beige slacks.
Madrid's consul general to Havana, who also was at the courthouse Friday, said he was "optimistic" about the outcome. "We're hoping for justice. Let's see what happens," said Spanish diplomat Tomas Rodriguez Pantoja.
Dissidents said that on the eve of the trial, Cuban authorities Thursday detained 22 opposition activists, including opposition leader Guillermo Farinas, in the city of Santa Clara. And Friday, authorities reportedly detained another of the country's most outspoken critics -- Yoani Sanchez, a prize-winning blogger.
Sanchez, 37, began commenting on daily life in Cuba on her Generacion Y blog in 2007, but ran afoul of the regime for criticizing Fidel and Raul Castro.
Last week, she filed a complaint against Cuba with the Inter-American Human Rights Commission for repeatedly refusing her permission to leave the country, according to her attorney, who said she has been unable to leave Cuba since 2007 although she has requested permission to do so on some 20 occasions.
Lawyers for the activist and writer said Sanchez -- who was arrested along with her husband -- had presented evidence to the commission that both had been harassed by Cuban authorities.