Residents leave doors open 'round the clock' in crime-free Falkland Islands
Friday, October 5th 2012 - 20:31 UTC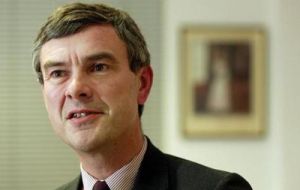 By Alicia Dunkley-Willis - Keys left in ignitions, house doors left unlocked, just about one murder over the last 30 years and police officers who don't carry firearms on the beat is the nothing less than utopic reality of the Falkland Islands.Falkland Islands Governor Nigel Haywood is a willing witness.
"I don't lose my car keys because I just leave them in the ignition of the car. I don't even know where to buy a padlock for my bike, I just leave it. Admittedly, no one is going to nick the governor's bike, but actually nobody nicks anybody's bike," he said jovially.
The 3,000-population British Overseas Territory, located in the South Atlantic Ocean, is veritably crime-free Police Chief Barry Marsden told Caribbean journalists on a tour of the Islands.
"The prison has a capacity of 10; we only have four prisoners there at the moment... the reality is, we don't have murders, we don't have robberies, we don't have prostitution, in have not come across any evidence of it," said Marsden, who is on his first year of a three-year contract. He, however, notes that child sexual abuse was now a concern with one individual of the four serving a 13-year sentence.
"A lot of the child abuse we are investigating are historic cases (committed in the past)," the police chief said. Local justices of the peace deal with offences such as speeding tickets, driving without seat belts and other minor offences, while the Islands supreme court and its equivalent of the resident's magistrate courts administers justice at a higher level.
It is what Marsden calls an "interesting community" where former prisoners when released back into society are not treated like lepers. "There is no hostility, you will find them in the pub the same evening," he shared.
While there are repeat offenders, he emphasised that "it is a very, very law-abiding society".
As far as the eye can see in the Falklands, there is no litter, no graffiti but arm injury from repetitive waving to friendly residents might be a common medical complaint.
"People here don't ask for firearms for personal protection, they don't need it and the police officers don't carry firearms," he said.
However, the 25-member Falklands police force, which is supplemented by the military on a needs-be basis, use no toothless bulldog and corruption of no sort is entertained.
"We have full scenes-of-crime capacity, we can deal with anything. We have very strong border controls" Marsden shared.
A recently released census, however, confirmed that "alcohol is the main problem" faced in the Falklands. A "high percentage of islanders drink and smoke," it said.
Last year, some 124 crimes were reported to the police compared to 149 the previous year, a 17% drop. There is an 82.7% detection or cleared-up rate. (Jamaica Observer).